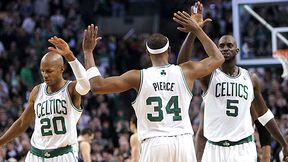 Greg M. Cooper/US Presswire
Would the Celtics keep the band together beyond next season? Only time will tell.Friday's Grab Bag about whether a potential lost season might close the window on Boston's latest Big Three era elicited strong reactions from readers, including some that wrote to the Celtics Mailbag wondering why that window couldn't be extended even a couple more years beyond the 2011-12 season.
Q: Why would the Celtics not want to bring back Kevin Garnett and Ray Allen after the 2011-2012 season at a reduced cost? Does the team think they are going to retire after that season? Especially now with the lockout? Wouldn't it make sense to have the Big Three coming off the bench after next season? -- Julian H. (Boston)
A: It's incredibly dangerous to try to forecast what the Celtics might do a year from now, particularly when we're still waiting on a new collective bargaining agreement just to lay the foundation to play some basketball again in the foreseeable future. But that doesn't mean we can't speculate.
So let's assume that both Garnett and Allen decide they've got more basketball left in them after the 2011-12 season -- a reasonable proposition for both, though Allen will turn 37 next offseason and Garnett made a couple references this past season about being in the twilight of his career. Would the Celtics be interested in keeping them around? Sure ... at the right price.
But therein lies the difficulty in trying to predict what Boston might do next offseason. Here's what we know: Boston is set to shed an incredible amount of cap space as Garnett ($21.2 million next season), Allen ($10 million), and Jermaine O'Neal ($6.2 million) will all come off the books. At the moment, Boston only has three players under contract in Paul Pierce ($16.8 million), Rajon Rondo ($11 million), and Avery Bradley ($1.6 million). You can probably add JaJuan Johnson's rookie scale (roughly $1 million) to that mix, but that's still only $30.4 million committed. Even if the owners get their way in this CBA battle and install some sort of hard cap ($62 million is the target number), that would still leave Boston plenty of room to add a superstar (or two?), particularly if contract values dip in a thriftier market.
Celtics president of basketball operations Danny Ainge said earlier this offseason that the Celtics need to start the process of getting younger and more athletic. While Allen and Garnett will be senior citizens by NBA standards after the 2011-12 campaign (if they are not already), Boston would seemingly entertain the idea of keeping them around at reasonable values. Which is to say, so long as retaining those players didn't hinder Boston from making a big free-agent splash, it would certainly seem reasonable to attempt to retain them.
The 2011-12 season -- if there is one -- might simply be the last time that the Big Three are the focal point of this Celtics' roster. While we don't see any reason to move any of the three out of the starting lineup this year, if Boston's offseason maneuvering next year brought in a top-flight shooting guard, maybe then the team entertains the notion of shuffling Allen to a reserve role (though we'll stress again, it makes absolutely no sense this year).
But to think the Big Three alone can keep Boston at a championship level beyond the 2011-12 season is dangerous. Ainge admitted as much on during an appearance on WEEI last month. Asked if the Big Three could compete for a title for one more season, Ainge said, "I think that's fair to say. I think two might be a stretch. I think one is something we could do."
But Ainge remains wowed by how hard the three work and how effective they've been despite being given such a short window when the Big Three was united.
"These three guys are different," said Ainge. "There's just no question. I've been surprised, quite honestly, at how hard they practice, how much they practice, how well they take care of themselves. They've been fairly injury-free. KG's had some challenges over the last couple of years, but he seems to be better right now than he's been over the last couple of years. I think that health-wise those guys have really taken care of themselves."
We simply have to wait and see how everything plays out over the next 365 days. How will the Celtics construct their roster this offseason and will there be big in-season changes? The Celtics might not have all that same cap space by next year if the right opportunities present themselves this season. And how much will Garnett and Allen command as unrestricted free agents? All of this will dictate exactly whether the Big Three window remains open beyond the 2011-12 season.