Boston Celtics:

New York Knicks
May, 2, 2013
5/02/13
4:14
PM ET
By
Ian Begley, Special to ESPNNewYork.com
GREENBURGH, N.Y. -- The on-court beef between the Knicks and Celtics turned into a Twitter feud Thursday afternoon.
Jordan Crawford
took to Twitter to deny allegations that he made a nasty reference to
Carmelo Anthony
's wife, LaLa, as the teams walked off the court after Game 5.
"I would never talk trash about that man's wife. I don't [know] him," Crawford wrote on his verified Twitter account. "All I did was respond!!"
LaLa Anthony also chimed in via social media. She tweeted on her verified account, "Try again. You on the bench for a reason," in a reference to the Celtics reserve guard. She included a link to a post on Instagram featuring a picture that said, "Strong women only intimidate weak men."
The back-and-forth on social media was in response to a dustup in the aftermath of the Celtics' Game 5 win over the Knicks.
Television cameras showed Crawford cursing at Anthony as the Knicks and Celtics filed off the floor.
Raymond Felton
took umbrage and approached Crawford and teammate
D.J. White
. Felton had to be restrained by his teammates.
Celtics coach Doc Rivers rushed his players off the floor. No punches were thrown.
"Just some words," Felton said after the game. "That's the game of basketball; it happens. You get in the playoffs, it gets intense sometimes. Just words, nothing serious."
Anthony downplayed Crawford's actions. He even took a dig at the Celtics reserve.
"I'm not thinking about no Jordan Crawford, not at this point in time, I'll tell you that," Anthony said. "I don't even think he deserves for you to be typing [his name] right now."
May, 2, 2013
5/02/13
11:41
AM ET
With momentum reversed in Boston's first-round playoff series with the Knicks, could the Celtics make history by coming back from a 3-0 deficit and advancing to the next round?
ESPN's Tom Haberstroh says it's entirely possible. His insider piece on the unlikely turnaround by the Celtics and Rockets in their respective playoff series lays out reasons why Boston fans should fan that flicker of hope.
Here's an excerpt from Haberstroh's piece:
The Knicks have cut down on their 3-point attempts a tad in exchange for long 2s by Carmelo Anthony. That's not good. Lately, they've reverted back to the notorious "give the ball to Melo and hope for the best" strategy of yesteryear, which would be OK if Anthony was a metronome of efficiency. Instead, he was the most volatile scorer in the NBA this season, according to his game-by-game variance in the points column. For a guy who relies so heavily on contested jumpers, the Knicks have been needlessly handcuffed to Anthony's brand of basketball.

Consider this: Anthony has shot an NBA-high 69 midrange jumpers so far in the playoffs, according to NBA.com/stats. The second-place guy? Carlos Boozer with 38. Yes, Anthony has almost doubled the number of midrange jumpers than the next-highest player. In fact, Anthony has taken more midrange jumpers (69) than the Heat (67 in four games), Bucks (66 in four games) and the Rockets (46 in six games).

This bears repeating: Anthony has taken 23 more midrange shots than the entire Rockets team. Maybe it shouldn't be a surprise that the stat-head Rockets have been allergic to the most inefficient shot in the game. For a favorite like the Knicks, it's not a sustainable strategy to hang your hopes on whether a low-percentage shot goes in or not.
To read the full insider article, click
HERE
.
April, 30, 2013
4/30/13
3:10
PM ET
By
Ian Begley, Special to ESPNNewYork.com
GREENBURGH, N.Y. --
J.R. Smith
thinks the
New York Knicks
would have swept the
Boston Celtics
if he had been playing in Game 4 of the division rivals' playoff series.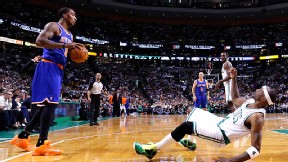 Greg M. Cooper/USA TODAY SportsJR Smith earned a one-game suspension for an elbow that floored Jason Terry in Game 3.
"Oh yeah, it would've been over," Smith said after Tuesday's practice. "I'd have been playing golf today."
The NBA suspended Smith for Game 4 after the star guard threw an elbow at
Jason Terry
's chin late in Game 3.
Smith watched on television Sunday as the Celtics defeated the Knicks, 97-90, in overtime to avoid elimination and extend the series. Smith also watched Terry score nine points in overtime.
Asked about Terry on Tuesday, Smith said, "Who? I don't even know who that is."
The Knicks' bench scored just seven points in the loss, a clear indication that they were hurt by Smith's absence.
Carmelo Anthony
shot just 10-for-35 and seemed to miss Smith, who draws attention from opposing defenders.
"It was very tough to watch," Smith said. "Especially that first half. I mean, from the turnovers to missing shots. ... It wasn't the easiest thing ever.
"I wasn't pleased with it. My teammates wasn't either. I'll get the chance to make up for it tomorrow."
April, 30, 2013
4/30/13
12:58
PM ET
By
Greg Payne
| ESPNBoston.com
WALTHAM, Mass. -- The Celtics still have a ways to go before they hope to force a Game 7, but the team is taking a winner-take-all mindset to Wednesday night's Game 5 against the Knicks in New York.
"Like I told them, what's the difference between being down 0-3 and being in a Game 7?" asked coach Doc Rivers, whose team is down 3-1 in the Eastern Conference quarterfinal series and is facing elimination for the second straight game. "It's no different. It's an elimination game. The difference is your mindset. In a Game 7 you're thinking, 'Let's win it to win it.' When you're down 0-3, you never know. You may have a couple guys making vacation plans, thinking you can't do it. It's all about the mindset. And that's what I told our guys before the game the other night and that will be the message still. Each game you win, it is a Game 7. If you advance, you just advance to another game instead of to the next round. That's got to be our mindset.
The team stressed the importance of consistency and execution heading into Game 5, but also the sense of urgency that will be needed to prolong the series.
"It's more about us and how we approach the game,"
Jason Terry
said before Tuesday's practice. "We've got to come out, again, Game 7. It's every possession, it's every shot, it's every defensive stop. I mean, it means that much. And so if you come in with that approach, you're going to put yourself in a position to win."
Added
Kevin Garnett
: "You know, Game 7s are all out. It's just what they are. They're your last opportunity to survive and your mentality can't be anything different. ... We have no pressure at this point. It should be an all-out mentality and you should play with a free mind and an aggressive mind and take this thing one game at a time and see what happens. Other than that, we put (ourselves) in this position. Can't (complain) about too much."