August, 20, 2014
Aug 20
10:00
AM ET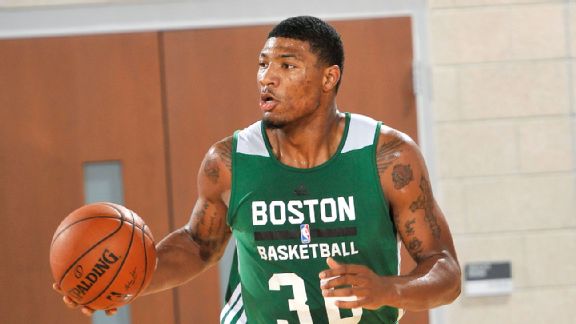 Fernando Medina/NBAE via Getty Images How will Marcus Smart fare in his first NBA season? Expectations appear high.
Each weekday for a three-week span, our summer panel of prognosticators -- a motley crew featuring our friends in the Celtics blogging community -- will join forces to tell you how the 2014-15 season will play out for Boston. We'll gaze into our crystal balls and attempt to answer all your questions before this season's team even hits the floor together for the first time.
Today's Celtics Summer Forecast topic
: What are your expectations for Celtics rookie Marcus Smart?
Our panel was given four potential options for Smart: (1) All-Rookie team; (2) Rotation player with immediate impact; (3) Role player with limited impact; and (4) D-League.
The No. 6 pick will shoulder plenty of first-year expectations as
nearly 65 percent of our panel pegged him for the All-Rookie team
. Now, let's keep in mind that 10 players make the two All-Rookie squads and it's not that daunting of a task some years. Last season, despite playing only 20 minutes per game, Kelly Olynyk topped the NBA's All-Rookie second team in voting.
This year's rookie class appears deeper and more talented, and it'll include the likes of Philadelphia's Nerlens Noel, who sat out last season while rehabbing from ACL surgery. Regardless, this writer agrees that
Smart has All-Rookie potential
. His NBA-ready defense should help separate him from some of his rookie peers and aid his case to earn a spot by season's end.
What's working against Smart, at least initially, is Boston's seemingly deep backcourt. The team returns Rajon Rondo and Avery Bradley in starting roles, while there will be motivation to showcase the likes of Marcus Thornton -- and Evan Turner, too, if he plays some minutes at the 2 -- in reserve roles at the start of the year.
But Smart showed NBA-ready skills at summer league and got experience against top-level competition with the USA Basketball select team, all of which should help him immediately carve out rotation minutes with the potential for his role to grow, especially should Boston make additional in-season moves to shed guard depth.
If Smart develops his jump shot and can impact the game at both ends of the floor, he'll muscle his way into the All-Rookie conversation. A look at our forecasters voting:
Read on as our panelists explain their ballots:
PODCASTS
Field Yates, NFL
Play Podcast ESPN NFL reporter Field Yates covers expectations for Rob Gronkowski, the Patriots' outlook, LeSean McCoy's injury and Alex Smith's contract negotiations with the Chiefs.
Baseball Tonight - Jed Hoyer
Play Podcast Buster Olney and Justin Havens discuss how teams that made major deals have fared since the deadline. Plus, Cubs GM Jed Hoyer on the strange circumstances caused by weather.