July, 22, 2014
Jul 22
3:15
PM ET
The
Boston Celtics
currently have 18 players under contract for the 2014-15 season with a total salary commitment of more than $80 million. While we wait for the official numbers on
Evan Turner
's free-agent deal, Boston is expected to sit $3+ million over the luxury-tax line ($76.8 million) with a need to trim at least three bodies before the start of the regular season.
If next season is heavy on development, the Celtics will have no desire to pax luxury tax, and avoiding the tax for a second straight season sets them up well to avoid stiff repeater penalties when they do launch back to contender status.
Before the start of the regular season, Boston must trim at least three bodies to get to the league maximum of 15, but must also consider giving itself some additional room -- both in terms of available salary below the tax line and roster space -- for potential in-season moves, particularly when future-minded bodies might become available at discounted rates.
So how can Boston trim the necessary space? A few options and ideas:
THE EASY ROUTE
Boston still has three nonguaranteed contracts totaling about $7 million headlined by the long-since excused Keith Bogans. If unable to cut costs in any other way, Boston could simply waive Bogans, Chris Babb, and Chris Johnson to get to 15 players and a salary safely below the tax line.
While this is the easiest route, it's not ideal. Bogans' nonguaranteed deal has potential to be a key trade asset, allowing Boston to offer a trading partner immediate salary-cap relief. Bogans got a monster raise while being a sign-and-trade inclusion in last summer's swap with the
Brooklyn Nets
and Boston stomached that salary because (1) it could do such in a rebuilding season and (2) that value was likely to be reimbursed in the future trade market. Simply waiving Bogans doesn't maximize his return. We'd go so far as to suggest that, if Boston can trim in other ways, it' be better to carry Bogans into the season as an invisible 15th man than to trim his deal now. The other downside here is parting ways with Johnson, a player that really endeared himself to the Celtics' coaching staff last season and who is playing on a team-friendly, long-term deal (though his minutes likely decreased with the addition of Turner and first-round pick James Young).
LIVING DANGEROUSLY
Tax payments are not calculated until after the season, so Boston doesn't necessarily have to trim to below the tax line to start the year. The Celtics could waive Babb and Johnson and look to make some sort of 2-for-1 trade that could get the team to 15 bodies while staying, say, $2 million above the tax line to start the season.
Because Bogans' contract doesn't become guaranteed until January, the Celtics would still have a safety net. The more difficult part might be finding a trade partner that can take on two players and willing to give back one (and that player would ideally be on a nonguaranteed deal or at the very least an expiring contract).
[+] Enlarge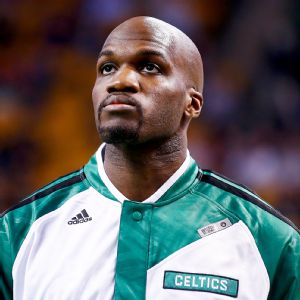 Jared Wickerham/Getty Images
GETTING CREATIVE
One option Boston ought to consider that wouldn't muddy up their books too badly and would offer some immediate relief: Utilizing the stretch provision on Joel Anthony.
Yes, the Celtics could try to find a team with the necessary trade exception or cap space to take on Anthony's $3.6 million salary in exchange for a draft pick, but using the stretch provision is a decent fallback route that could help protect draft picks or other assets like Bogans' contract. And let's face it, there's a reason Anthony triggered a $3.6 million player option to return to Boston: He wasn't getting that money anywhere else.
The stretch provision allows a team to waive a player and spread their remaining salary over twice the length of the contract plus one season. So Boston could waive Anthony and pay him a modest $1.2 million for the next three seasons. The idea of dead money on your books is never ideal and simply eating that $3.6 million this season, while rebuilding, is a more better situation. But Boston would generate $2.4 million in immediate savings and, coupled with releasing Babb and Johnson, could seemingly trim to 15 players and get under the tax line without sacrificing Bogans as a trade chip.