CLEVELAND -- Greetings from Quicken Loans Arena, where the Cleveland Cavaliers host the Boston Celtics in an Eastern Conference showdown to open the 2009-10 NBA season.
Ray Allen, wearing a band-aid to cover stitches above his eye, but eager to warm up, was spotted waiting patiently in one of the tunnels as the Cavaliers ran children's events on the floor a short time ago.
Here's some news and notes as we wait for action to pick up:
[+] Enlarge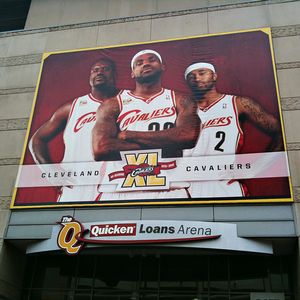 Chris Forsberg/ESPNBoston.com
The Cavaliers are celebrating their 40th anniversary this year.
CAVALIERS XL: "XL" is the Cavaliers' trademark of sorts for the 2009-10 season, as it celebrates the team's 40th year. Of course, the addition of arguably the game's biggest body -- Shaquille O'Neal -- helps give the "XL" slogan a bit of a double meaning here.
LOCAL FLAVOR: Parking is reasonable near The Q, with bordering lots going at $25 and nearby garages at $15. After a sunny day, clouds have rolled into the area, but temperatures were in the low 60s most of the day and fans -- many wearing LeBron James's "23" shirts -- were roaming the area around the stadium. Progressive Field is a baseball throw's away, so imagine Fenway and the Garden sharing neighboring territory.
One parking attendant opined to some folks walking by that the loss of Glen Davis would hurt the Celtics tonight, but he was more excited about the debut of O'Neal. "We've got the Diesel!" he proclaimed.
WHITE OUT: The Cavaliers have distributed shirts throughout the arena with the "XL" logo on them and it should look like a sea of white for tonight's game.
PREGAME PLAN: The Celtics' locker room is expected to be open about 90 minutes before tipoff and coach Doc Rivers will address the media at 6:35 p.m. We'll pass along news and notes here in the blog, but if you want the updates a little faster, you can follow me on Twitter. We'll also post some pictures and video throughout the night.