The challenges keep coming for Celtics point guard Rajon Rondo. First it was Cleveland's Mo Williams, then a Raymond Felton/D.J. Augustin combo against Charlotte. Chicago's Derrick Rose is next as the Bulls visit the TD Garden Friday.
But the way Celtics coach Doc Rivers sees it, the opposing guards are the ones who need to prepare for a challenge.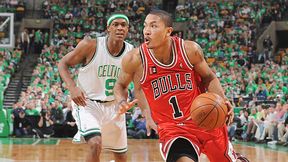 Brian Babineau/Getty Images
Chicago's Derrick Rose and the Celtics' Rajon Rondo opened some eyes with their play in last season's memorable playoff series.
"I think Rondo has established himself as a guard that other guards are going to get up for, too," said Rivers. "No longer is he just trying to measure himself. They measure themselves against Rondo now. When you reach a level like Paul Pierce -- and that's what [Rondo] wants to do -- there are no off nights. Every night someone is trying make their name off of you."
In a way, the Rondo-Rose matchup is a battle of two guards trying to secure their spots in the upper echelon of NBA point guards. Ask someone who the best at that position is and you'll likely hear names like Chris Paul, Deron Williams and Steve Nash.
Maybe it's time to start putting Rondo and Rose in the conversation.
Rondo has been downright brilliant to start the 2009-10 season, averaging 9 points, 10.5 assists and 3 steals per game in wins over the Cavaliers and Bobcats. What's more, he's shooting a scorching 64.3 percent from the floor, spinning all sorts of shots in from under the basket and showing confidence in his midrange jumper (something he spent the offseason working on with former NBA great Mark Price).
New teammate Rasheed Wallace has offered high praise for Rondo after each game, noting in Cleveland: "Rondo plays a hell of a game. He sets the table and make sure everyone gets the ball." That's a delicate line Rondo must straddle in Boston. On another team, he might be leaned on to provide more scoring, but he sacrifices some of that spotlight to the Big Three here.
Rose, meanwhile, is likely to catch even more of the spotlight this season with Ben Gordon having departed for Detroit. Rose will have to bump up his 16.8 points per game from a season ago to help the Bulls keep moving forward.
The NBA's reigning Rookie of the Year limps in with an injured wheel. Rose missed three weeks in the preseason with a right ankle tendon injury, but started Thursday's season opener against the Spurs.
"I'm feeling good," Rose told ESPNChicago.com. "My ankle is warming up. I'm feeling a lot better out there. Now I'm just ready to play."
If he didn't prove himself during the regular season of his rookie campaign, Rose had his coming-out party last April at the Garden. He erupted for 36 points and 11 assists in a 105-103 overtime victory in Game 1 of the teams' memorable first-round playoff series. Rose's 36 points tied Kareem Abdul-Jabbar's record for a rookie making his postseason debut.
Rose went on to average 19.7 points, 6.4 assists and 6.3 rebounds in the series, which the Celtics won in seven games. Somewhat lost in the hoopla around Rose was just how good Rondo was in that series.
In the Game 1 loss, Rondo had 29 points, 9 rebounds and 7 assists. Two days later, Rondo erupted for 19 points and 16 assists in a Game 2 victory. Rondo's best effort might have been a 28-point, 11-assist performance in a crucial Game 5 win at the Garden.
On Friday, the guards renew acquaintances. And if Rondo needs any extra motivation, he need only spend a few minutes on YouTube. Search for "Rondo and Rose" and you'll get numerous copies of Rose crossing over on Rondo during last season's series, as well as Rose's block to seal a triple-overtime win in Game 3.
Rondo got the last laugh last season, but this rivalry is just getting started.