C's not worried about losing pattern
February, 1, 2010
2/01/10
2:47
PM ET
Despite the Celtics' recent struggles, particularly against the elite teams they're likely to encounter in the postseason, Boston players continue to suggest that things will be different once the playoffs start.
It's somewhat odd to hear players talking about the postseason before the All-Star break even arrives, but the Celtics have never been bashful about their long-term goal of winning another world title. Even still, with Boston having lost 11 of its last 17 games, you can't help but wonder if the Celtics are simply trying to convince themselves that things will be different in the postseason.
[+] Enlarge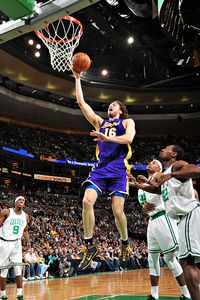 Jesse D. Garrabrant/Getty ImagesPau Gasol and the Lakers scored in the paint at will in the fourth quarter, with 18 of their 24 points coming from the inside.
After all, Boston rallied behind the "We just need to get healthy" card while waiting for
Kevin Garnett
to return earlier this month. The team is just 2-3 with him back in the starting lineup after a 10-game absence with a hyperextended right knee. To be fair, Garnett and the Celtics remain at less than 100 percent, but his return wasn't the quick solution some thought it might be.
So what makes anyone think the postseason will be the cure-all for the Celtics?
The Celtics almost undoubtedly will start winning games again, likely in bunches -- even if tonight's visit to Washington, D.C., to play the Wizards screams of letdown as it caps a grueling four-games-in-five-days stretch -- but one must wonder if Boston is truly capable of making a run in the postseason given how bad it's looked at times during this skid.
Yet, even after falling to the championship-caliber triumvirate of the Hawks, Magic and Lakers, the Celtics stressed two main points after Sunday's loss to Los Angeles at the TD Garden: 1) They probably should have won two of the three recent games (Orlando, L.A.) and 2) They
will
win those games if the same teams cross paths in the postseason.
"Postseason is a whole different season," said
Rasheed Wallace
after Sunday's loss. "It's the second season where all the shots are bigger. That's when you see who has the biggest --
machismo
. I don't want to say the other word, but that's what it comes down to. Regular season? Yeah, you got a few big games where anybody can hit some shots. But when it's for the hardware, some cats don't want to take those shots. So I don't think it's a psychological advantage if you dominate or beat a team in the regular season."
Across the hall, in the postgame interview area, a reporter asked Kevin Garnett about the importance of losing to the Lakers and whether it was especially demoralizing considering some players had dubbed it a must-win..
"Little bit," admitted Garnett. "Obviously, the Lakers are a very good team. They're one of the premier teams in the league. You know it's gonna be like a fight when you play these teams. It's two good teams going at it.
"It's not the playoffs, though. It's not the [NBA] Finals, none of that."
When the inquisitor asked a follow-up question about whether Boston was concerned about its playoff potential given recent struggles against top competition, Garnett, who typically stares down toward the podium as he fields questions, slowly craned his head to look at the reporter over his right shoulder, showcasing a different sort of stare down, as Pierce tackled the question.
"We know we lost these games," said Pierce. "The good thing about it is we play all of those teams except for Atlanta again. So we have some ground to make up. Definitely, we lost ground in this race at this point in the season. But we're a fighting team that's going to get back in it."
PODCASTS
Adam Schefter, NFL
Play Podcast ESPN NFL Insider Adam Schefter weighs in on the Panthers' WR situation, Julian Edelman's future with the Patriots, Vince Wilfork's decision to ask for his release and more.
Spanning the Globe: 3/13
Play Podcast "Spanning the Globe" features ESPN Boston's Mike Reiss, Yahoo! Sports' Eric Edholm and ESPN LA 710's Mark Willard.
John Farrell, Red Sox
Play Podcast Red Sox manager John Farrell talks about whether he expected his team to make such a turnaround in one season, his relationship with his players, fans' expectations for the squad and more.