Catching up with old friends: Lester Hudson
February, 3, 2010
2/03/10
9:34
AM ET
Rookie Lester Hudson faced an uphill battle for playing time and development with the Boston Celtics, but he seems to have found a home and a potential opportunity for growth with his hometown Memphis Grizzlies.
[+] Enlarge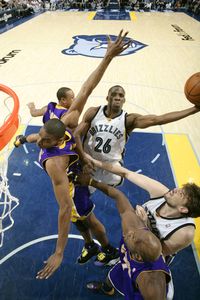 Joe Murphy/NBAE/Getty ImagesLester Hudson soars towards the hoop vs. the Lakers on Monday.
Hudson, the Celtics' lone draft choice (second round, 58th overall) in the 2009 NBA Draft appeared in 16 games with Boston, scoring 22 points in 70 minutes, before being waived in January. With Memphis, he's appeared in six games, scoring 30 points in 54 minutes of action.
The product of the University of Tennessee-Martin hadn't gotten off the bench for seven straight games in Memphis, but it's been a big February already. Hudson scored a career-high 13 points o 4-of-10 shooting in a 95-93 win over the Lakers on Monday. A day later, he scored eight points in 15 minutes against the Cavaliers.
From the
Memphis Commercial Appeal
:
"It was an emotional thing for me because I've been inactive and I've wanted to play real bad," said Hudson, a rookie guard and former Central High player. "I felt that I could help the team off the bench. I just wanted to prove that to the coaches, my teammates and the fans."

Hudson, relegated to the inactive list to make room on the 12-man roster for Hamed Haddadi, had not played in seven games. But with rookie swingman Sam Young sidelined with an allergic reaction, Hudson got an opportunity. He finished with a career-high 13 points on 4-of-10 shooting in 12 minutes.

"He was a huge lift," Grizzlies coach Lionel Hollins said. "We need someone that can get his own shot and make a shot. That's what that group needs."
Memphis (26-22) is in a three-way logjam with New Orleans and Houston at the bottom of the Southwest Division standings, but they remain one game out of the playoff hunt in the Western Conference.
The Celtics
waived Hudson
on Jan. 4, right before the deadline to guarantee contracts for the remainder of the 2009-10 season. Boston saved about $300,000 on Hudson's $458,000 deal, but, more importantly, freed up a roster spot that will allow them to maneuver later in the season.
After taking in Monday's game,
ESPN's John Hollinger
wrote:
I talked to some Celtics personnel about Memphis guard Lester Hudson last week, because Hudson had been drafted by the Celtics and spent half the season with them before he was released to avoid guaranteeing his contract. The Grizzlies scooped him up on a 10-day contract and he played a big role in Monday's win against the Lakers, scoring 11 points in the second quarter.

Boston didn't want to lose Hudson and considered him an NBA player. Although he was often way too aggressive for his own good last night -- he hoisted some wild shots off the dribble -- he shot well off the catch and, on a night where Memphis' sixth man Sam Young couldn't suit up, provided a needed boost of offense.

The question going forward is whether his shot selection will undermine his other skills. Hudson is a shoot-first small guard, a species that often has trouble adjusting to the NBA, but he has a good body and competes very well at the defensive end -- in last night's second quarter he took several shifts against Kobe Bryant and held his own. What has to improve is his ability to run pick-and-roll plays to get shots for others rather than just a wild jack from 25 feet. If he can manage that, he'll be in the league a long time as a Bobby Jackson-type bench scorer
PODCASTS
Baseball Tonight
Play Podcast Buster Olney and Tim Kurkjian discuss the rosters for the Home Run Derby, Jon Lester's future and more. Plus, Indians P Corey Kluber on his All-Star candidacy and Tigers P Joba Chamberlain.
Baseball Tonight
Play Podcast Buster Olney and Jerry Crasnick discuss All-Star selections and Jeff Samardzija's impact in Oakland. Plus, David Price talks about his season and the prospect of getting traded.
Mike Sando, NFL
Play Podcast ESPN.com's Mike Sando offers his insight on NFL insiders' quarterback rankings, impressions of Robert Griffin III and whether teams prefer Peyton Manning or Tom Brady.