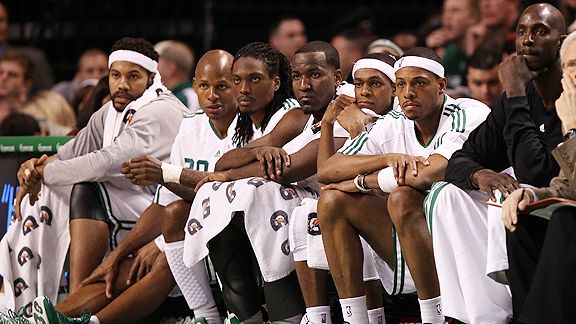 Elsa / Getty Images
Boston's regulars watch the (lopsided) action from the bench.BOSTON -- A collection of postgame news and notes after the Memphis Grizzlies stomped the Boston Celtics, 111-91, Wednesday night at the TD Garden:
The rundown (a quick look at the postgame headlines)
* KG: Grizzlies 'totally annihilated' the Celtics
* Doc's opinion: Best message was 'two minutes left'
* Pierce surprised by the boo birds
* Scalabrine the odd man out again for C's
KG: Grizzlies 'totally annihilated' the Celtics
Celtics forward Kevin Garnett didn't sugarcoat a lopsided loss.
"I think it speaks for itself," said Garnett. "They came in and just totally annihilated us. Nothing to it. I thought we played hard in spurts, but it seemed like whatever they threw up it went in."
The Celtics dug themselves a hole early, but it truly did seem like the Grizzlies could do no wrong at times. In one sequence, Marquis Daniels missed a driving layup and Memphis pushed the ball quickly up the court. O.J. Mayo drove hard to the basket and threw up a desperation reverse layup that floated through the net. That was Boston's night in a nutshell.
Even still, Garnett seemed dismayed with how the game unfolded. Asked about Boston's up-and-down play, he snapped, "Man, this whole damn game was frustrating."
But when asked if concern was mounting, Garnett again tried to douse the flames.
"Obviously, you're not going to look at some game like this and not have any concern, but I thought [Tuesday night] we [gave] a valiant effort and Milwaukee beat us. I thought we got stops in that game and [Wednesday] we just didn't get any stops when we had to. There's just got to be more urgency, but we're going to take this one game at a time. We're not looking down to May and April right now. Right now we need to take care of March. That's the mindset, so whatever we've got to do, we've got to do it soon, and do it immediately."
Doc's opinion: Best message was 'two minutes left'
Celtics coach Doc Rivers tried to take a light approach when he opened his postgame chat with the media, but even that was as flat as Boston's play.
"Well, if you guys were looking for a good message in the game, there was one: 'Two minutes left in the game.' When they announced that, that was the only good message in this entire game," Rivers joked to crickets.
"We were awful tonight -- energy was awful. I thought, honestly, we started out, we wanted to play. I thought the first seven or eight minutes we played with great energy. We couldn't make a shot. And I think I talked about this a couple of games ago, because we couldn't make shots, you could see us not running back on defense, getting down, and that's the one disappointing thing about tonight and other games, is right now our offense -– our lack of offense -- is dictating how we play defense. And that's disappointing."
Rivers brushed off the notion that playing a young, athletic squad like Memphis, particularly on the tail end of a back-to-back put Boston in a tough spot, saying Boston was just plain awful Wednesday.
"We were bad tonight, honestly," said Rivers. "And I thought we, honest to gosh, we came in and decided not to play. I thought we wanted to play and then we got dispirited and stopped playing. Even in the second half, I thought we made a couple runs -- I don't know what it was, we cut it to [14] one time -- and they get an offensive rebound and made a [3-pointer]. And you can see the heads hanging again. We cut it again, and I think we turned it over and they came down and made another shot. We just didn't seem like we had the fight to fight through that."
Rivers later suggested that, while he's been reluctant to change, that maybe it's something he needs to examine with Boston simply unable to shake its inconsistent play, particularly against quality opponents (which the Grizzlies, despite being a non-playoff team right now, most certainly are).
Pierce surprised by the boo birds
Celtics captain Paul Pierce couldn't avoid the boos as the crowd (vehemently) voiced its displeasure with Boston's performance several times during Wednesday's loss.
Pierce acknowledged that he understands fans' anger, but admitted he was surprised considering the Celtics still boast a 40-23 record.
"Yeah, it surprises me," said Pierce. "You come out on your home court, get this kind of loss, and get booed by your home [fans]. I haven't been on a court where we've been booed [in a while] and it's been a couple of times this year. It's been about five or six years since I've seen that. We're still 17 games over .500. All the fans want is a constant effort, night in and night out. I think we've got to be more consistent with that, regardless of if we win or lose."
Scalabrine the odd man out again
Brian Scalabrine spent the night deactivated for the second straight game as the Celtics attempt to integrate newly acquired swingman Michael Finley on the fly.
Rivers said he might ultimately settle into a rotation of players based on matchups with the opposing team, but as Finley learns the system, it's Scalabrine who rides the pine.
"We want to play Michael as much as we can, get him into a rhythm with the team," said Rivers. "If it isn't going, we need to go to Tony, so we need another guard. Once Michael gets into the rhythm with the team, we will go to a matchup. But right now we need an extra guard.
"It's never easy. It's a human game and there's hurt feelings. New guys come in and end up in front [of players that have been here]. It's difficult for any guy to lose minutes, lose time."
Finley logged 13:41, much of it late in the fourth quarter. Finley connected on 4-of-6 shots, including a pair of 3-pointers, for 10 points in his second appearance with the Celtics.
Rivers said he didn't have to worry about hurt feelings playing Nate Robinson because he essentially replaced Eddie House after a five-player swap with the New York Knicks at the NBA trade deadline. But Finley's addition has left Rivers with the unenviable task of benching one healthy veteran each game.
"With Michael, we're forcing him in there, finding out what he can give us," Rivers said before the game. "We have 20 games now and not a lot of practice days. We have no choice in this, so right now in the first half, we'll put him in and see how it goes. The second half, we'll go more on rhythm."
Pregame recap: Pacman returns; Lester doesn't
Hop HERE to check out our pregame report on the boxing gloves signed by Manny Pacquiao that appeared in the Celtics' locker room before Wednesday's game (ironically, Boston's offense lacked any punch) and an update on rookie Lester Hudson, Boston's lone draft choice this past year, who is on assignment with Memphis' NBA Development League squad.