Celtics coach Doc Rivers despises change and, fortunately for him, hasn't had to make any wholesale alterations since the Big Three united during the summer of 2007.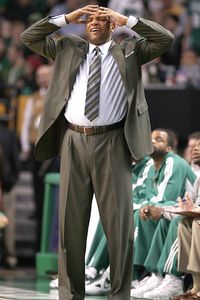 Elsa / Getty Images
"We've been reluctant to make changes with our rotations and stuff like that. Maybe we need to think about it," said Celtics coach Doc Rivers.But even Rivers can't run from the numbers that show just how mediocre his team has played over what amounts to nearly half a season. And, despite his hesitations, Rivers admitted Wednesday night on the heels of a lopsided thrashing at the hands of the Memphis Grizzlies that change might be inevitable.
After winning 23 of their first 28 games to start the 2009-10 season, the Celtics stood at 151-41 (.786 winning percentage) for the past three seasons, a staggering 110 games over .500.
Over the past 35 games, Boston is a pedestrian 17-18 (.486 winning percentage).
For most of this season, Boston could blame injuries. The Celtics rarely enjoyed a completely healthy roster with just about every player missing time because of injury or illness. But Boston has been near full strength recently, including Wednesday night, and it hasn't been able to rekindle what made it so successful in the first 192 games the new Big Three played together.
So for the first time since the team traded for Kevin Garnett, a move that pretty much dictated Rivers' starting lineup for him, Boston's coach must decide if it's prudent to tinker with his use of personnel in order to salvage the current campaign.
The fact Rivers acknowledged that change might be necessary suggests how dire the situation is.
Before last month's trade deadline, the assumption was that Boston simply needed a shakeup, something to stir it from the winter doldrums. And while the Nate Robinson-for-Eddie House swap might ultimately be judged as a move that made Boston better, it wasn't the cure-all some hoped it might be.
So now the Celtics must examine their core and decide if recent troubles are a result of an inability to sustain the level of play from seasons past.
"I'm slow to change," Rivers said Wednesday. "I think consistency is better. But I think at times, you do have to think about it. I'm not a big believer in change if it's not going to be a long[-term] change; that's a waste of time.
"We haven't fixed [our problems], clearly, and I always say I've got to do better, I've got to figure out why. We've been reluctant to make changes with our rotations and stuff like that. Maybe we need to think about it."
Click HERE to read the full story.