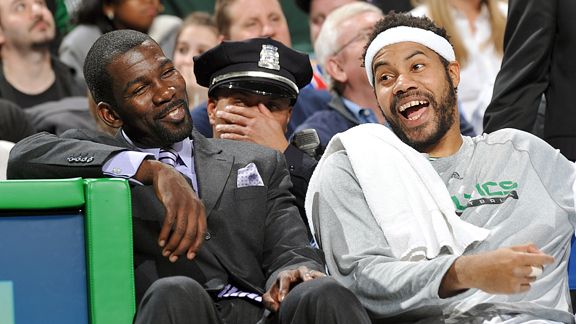 Steve Babineau/NBAE via Getty Images
One key to Michael Finley's success in Boston: Rasheed Wallace.On a night the Celtics' bench erupted for its second-highest offensive output of the season, Rasheed Wallace produced another quiet night Friday versus Indiana.
Wallace registered six points on 2-of-4 shooting over 19 minutes, missing both 3-pointers he attempted. For the month of March, he's reached double figures just twice in eight games. His averages for the month (7.1 points, 3.7 rebounds, 0.4 assists) are well below his season averages (9.5 points, 4.1 rebounds, 1.1 assists), even if his percentages are up (and only because he was abysmal in February, shooting 39.8 percent overall and 17.1 percent from beyond the arc).
Despite all this, Celtics coach Doc Rivers singled out Wallace for one reason Saturday: He's doing the dirty work to free up recently acquired swingman Michael Finley.
"I think Rasheed is doing a phenomenal job setting picks to get Mike open," said Rivers. "For two guys that have not been together very long, Rasheed's realized what Michael can do and is using that body to get him open."
Despite all of Boston's struggles, particularly in the offensive end, it's reassuring to see guys like Wallace and Kendrick Perkins still utilizing their frames to help generate buckets. As Rivers noted with Perkins, it's that type of play that usually leads to easy buckets around the basket for those setting the picks and screens.
Boston's bench combined for 54 points, the second highest scoring output since posting 62 points against Philadelphia on Nov. 3. It was only the eighth time this season the Celtics' reserves combined to score 40 points or more.
Wallace and Finley came into the league together in 1995, with Wallace the fourth overall pick (one spot before Kevin Garnett), while Finley got tabbed with the 21st pick by the Phoenix Suns. From the random but true department: Finley, Nate Robinson (2005), and Rajon Rondo (2006) were also selected 21st overall by the Suns before finding their way to Boston.