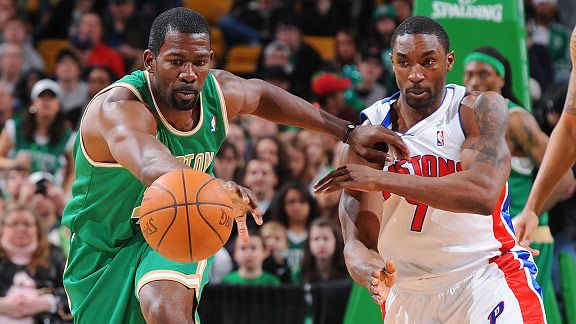 Brian Babineau / NBAE / Getty Images
Michael Finley is providing what Rasheed Wallace couldn't.BOSTON -- When the Boston Celtics went shopping for a free agent to push them over the top in the 2009-10 season, they coveted a veteran with championship experience who could space the floor and hit big perimeter shots.
So hell-bent on delivering such a talent, Celtics brass boarded a private jet to Detroit during the offseason, hoping to lure Rasheed Wallace to Boston. The Celtics went so far as to overpay for his services, offering a three-year contract to assure he'd end up in green.
And while the 35-year-old Wallace hasn't nearly lived up to expectations, the same prototype showed up on the Celtics' doorstep earlier this month when Michael Finley arrived in town after receiving a buyout from the San Antonio Spurs.
Arriving with none of the expectations assigned to Wallace, Finley has already exceeded Boston's highest hopes by providing instant offense off the bench, even as he dives into the playbook.
Finley erupted for a season-high 15 points in less than 14 minutes Monday night, connecting on 6-of-7 shots, including a trio of 3-pointers, to help the Celtics thrash the visiting Pistons 119-93 at TD Garden.
In four games with Boston, the 15th-year veteran, from the same 1995 draft class as Wallace, is averaging 8.6 points, 2.4 rebounds and 0.8 assists in 14 minutes per game. That's on par with what Wallace is giving the Celtics at 9.5 points, 4.1 rebounds and 1.1 assists over 23.1 minutes per game.
And it's costing the team more than $5 million less this season.
Fortunately for Boston, as polar opposites as the players are off the court -- Finley a sage veteran who said he'd be willing to impart wisdom to any players looking for it, while Wallace is the brash jokester who offers everyone a piece of his mind, from teammates to officials -- they've actually formed a formidable pairing on the floor.
Click HERE to read the full story in today's Daily Dime.