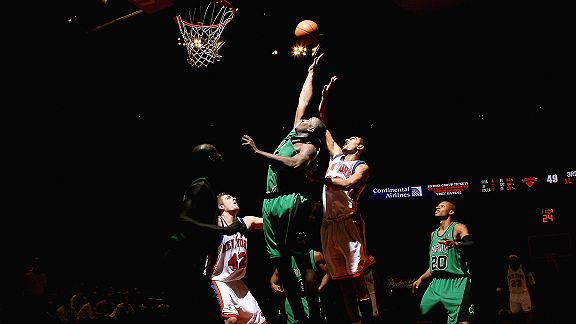 Nathaniel S. Butler/NBAE/Getty Images
Rebounding hasn't been Boston's strength this season.Thirty-six years ago today, the Boston Celtics set an NBA record by collecting 61 defensive rebounds in a 129-103 win over the Capital Bullets at the Boston Garden.
Sixty-one defensive rebounds!? That's a quality week for some teams. The Celtics only hauled in 60 defensive rebounds over their last two games combined (32 vs. Cleveland, 28 vs. Detroit). Maybe it's no surprise that 1973-74 Celtics squad, aided by its ability to dominate the glass, posted a 56-26 record and won an NBA title.
Rebounding has certainly been an issue for the 2009-10 Celtics. Colleague Peter May put it in nice perspective in his column today on the Celtics' chances at postseason success:
There has been the season-long concern of rebounding, or lack thereof. How can this team be so bad on the boards? They are one of 12 teams with a negative rebounding differential, but they have some decent company (Dallas, Denver and Atlanta also are in the red in this particular area). And their anemic totals on the offensive glass (last in the league) are somewhat due to the fact that they are the fourth best shooting team in the league.

In the championship season of 2008, the Celtics were ninth in rebounding. Last year, they were 12th. This year, they are 24th and of the six teams below them, only Toronto is a playoff team as of now (and barely at that). Pat Riley famously said, "No rebounds, no rings." Watching Anderson Varejao blow by and around Wallace (and just about anyone else) on Sunday was depressing but revealing. If the Celtics don't start rebounding, they can forget about any new banners.