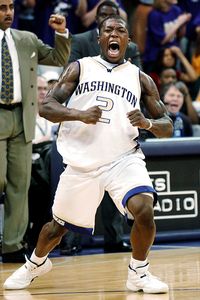 Otto Greule Jr/Getty Images
Nate Robinson during his days at Washington.No truth to the rumor the Celtics took an early flight to Houston Thursday morning to be in prime position for when the NCAA men's basketball tournament tipped off this afternoon. But you have to imagine that coach Doc Rivers and Nate Robinson will be huddled around a TV somewhere in the Lone Star State when sixth-seeded Marquette battles 11th-seeded Washington in a first-round matchup in the East bracket on Thursday evening.
Rivers, a Marquette product, and Robinson, a Washington product, have certainly broken down the matchup over the past couple days with some verbal sparring. Rivers stressed before Wednesday's game against the Knicks that Marquette had to win that game to avoid hearing an earful from his backup point guard.
"We don't bet, of course," Rivers said with a smile when asked if the two had a friendly wager on the game. "But we have discussed the Marquette spanking of Washington [Thursday]. We have definitely talked about it -- and Nate has talked about it quite a bit, as you might imagine. We have to win that game, that's very important."