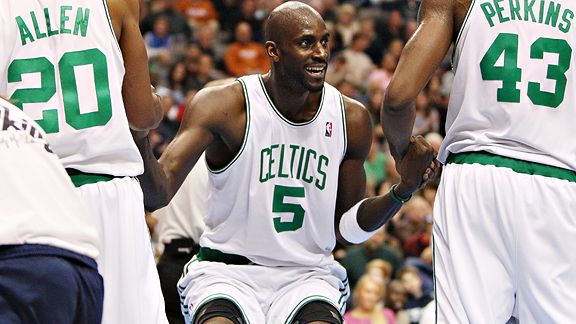 Matthew Emmons/US Presswire
Kevin Garnett has reason to smile lately.It was a simpler time.
When the Celtics met the Jazz back in November, Boston emerged with a breezy 105-86 triumph, improving to 8-1 on the young season. Rasheed Wallace openly speculated about challenging the NBA record of 72 wins, Kendrick Perkins discussed Doc Rivers' challenge of being the best defense in sports since the 1985 Bears, and Kevin Garnett was talking about "running through cornfields," because he felt so healthy again.
(Sigh) Those were the days.
Between then and now, the Celtics got a bit lost in the cornfields KG was gleefully running through. Before this recent four-game winning streak, Boston was a pedestrian 33-23 since that early season win over the Jazz. And considering Boston won 15 of its next 19 games after topping Utah, it shows just how much this team struggled in recent months.
OK, so the regular season hasn't gone exactly to plan. But for the first time since that first Jazz meeting, there's a sort of optimism and buzz around this team that we haven't seen in the new calendar year.
A win Monday night would punch Boston's playoff pass. While that's not the sort of champagne-popping accomplishment of a sport like baseball, there's something to be said for crossing an accomplishment off the season to-do list.
What's more, a win Monday would cap a sweep of this three-game road trip that featured two of the top four teams in the Western Conference, and a Rockets team that would be challenging for the fifth spot in the Eastern Conference (Houston, in the wild West, is instead on playoff life support).
A victory would also push Boston's road record to a glossy 25-12 with four road games to go. While a return trip to Milwaukee, where the Green fell earlier this month, isn't a slam dunk, there's the very real possibility that the Celtics could close out the season at 29-12 on the road -- almost as sterling a mark as the 31-10 record they boasted in their championship season of 2007-08.
Click HERE to read the full story.