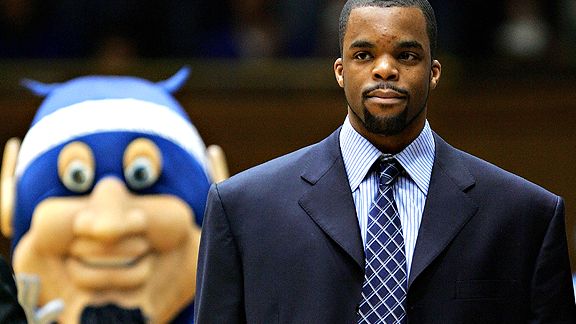 Streeter Lecka/Getty Images
Shelden Williams holds a unique NCAA honor from his Duke days.The wizards over at ESPN's Stats and Information passed along an interesting note that only five current NBA players -- which amounts to 0.01 percent of the active bodies -- competed in four Sweet 16s during their collegiate days.
Not surprisingly, Duke is well-represented, accounting for four of the five players, including Boston's Shelden Williams. As Sweet 16 play kicks off today in the 2010 NCAA tournament, here's a look at the five players to accomplish the "Sweet Feat."
* Williams, Duke: 2003 Sweet 16; 2004 Final Four; 2005 Sweet 16; 2006 Sweet 16
* Shane Battier, Duke: 1998 Elite 8; 1999 NCAA title game; 2000 Sweet 16; 2001 NCAA champions
* Chris Duhon, Duke: 2001 NCAA champions; 2002 Sweet 16; 2003 Sweet 16; 2004 Final Four
* J.J. Redick, Duke: 2003 Sweet 16; 2004 Final Four; 2005 Sweet 16; 2006 Sweet 16
* Charlie Bell, Michigan State: 1998 Sweet 16; 1999 Final Four; 2000 NCAA champions; 2001 Final Four