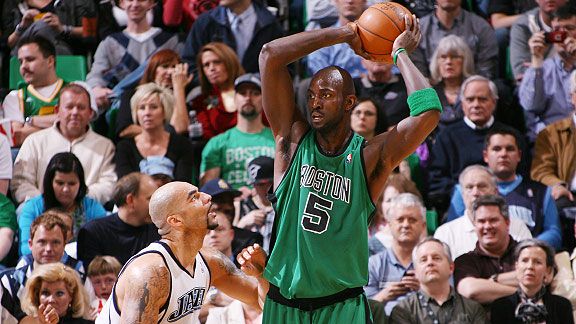 Melissa Majchrzak/NBAE/Getty Images
The Jazz dominated the second half Monday night.Instant reaction after the Utah Jazz posted a 110-97 triumph over the Boston Celtics Monday night at the EnergySolutions Arena in Salt Lake City:
How the game was won: The Celtics started strong, but faded fast over the final 26 minutes, dropping the last game of a three-game road trip. Glen Davis provided the biggest spark, scoring nine of his 13 points in the first quarter, and Boston led by double digits in the second period, but couldn't hold on. Ray Allen finished with a team-high 15 points, but Paul Pierce -- fresh from being named Eastern Conference Player of the Week -- struggled, going 3-of-13 from the field for 11 points. Doc Rivers capped the festivities by getting ejected with a little more than a minute to play.
Turning point: The Celtics outplayed Utah throughout the first half (and were the beneficiary of plenty of favorable whistles), but needed a late second-quarter burst to open a 12-point lead with two minutes to play in the half. But Utah wouldn't go quietly into intermission, scoring the final seven points of the half to trim the lead to five before the break.
Turning point II: The Jazz opened the second half by scoring the first nine points -- stretching their run to 16-0 -- and another 7-0 burst a short time later helped Utah's lead balloon to 14 with 6:41 to play in the third quarter.
Stat of the game: Utah's starters outscored Boston's first unit 88-49. Whether it was tired legs or simply poor play, the Celtics' starters simply didn't have it Monday.
Unsung hero: Davis scored five points and took a charge in the first minute he was on the court as part of a monster first half. Things got ugly in the second half, including when he took an elbow to the nose and needed medical attention before returning with a cotton plug jammed in a nostril.
What it means: The Celtics finish a rugged road trip at 2-1, still a favorable mark for the competition they saw. It doesn't get much easier, even as the team returns home for a season-long six-game homestand. The first five games feature more Western Conference opposition before a visit from the Eastern Conference-leading Cleveland Cavaliers on Easter Sunday.