Tie goes to ... the C's
March, 24, 2010
3/24/10
10:42
AM ET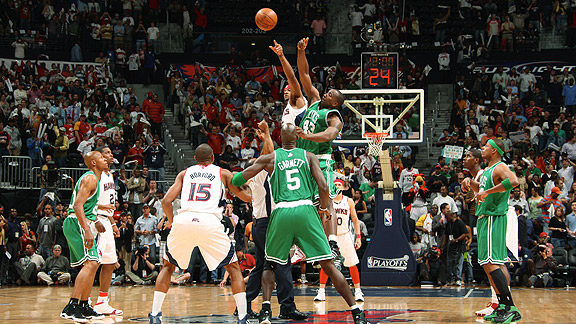 NBAE/Getty Images Little-used NBA tie-breaker No. 259: A jump ball between both teams.
The road to the third seed in the Eastern Conference just got a little easier for the
Boston Celtics
.
Recently, we've been noting that the Celtics must finish with a better record than the
Atlanta Hawks
in order to secure that third seed because our interpretation of the NBA playoff rules suggested that the first tie-breaker between two of the top four seeds reverted to head-to-head record (with the Hawks having swept Boston in four regular-season meetings).
Turns out it's even simpler. According to the NBA, a division leader automatically trumps a second-place finisher in another division. So, assuming the
Orlando Magic
win the Southeast Division (they're 4.5 games up on Atlanta), it's actually the Hawks that will need to finish ahead of Boston in order to net that third seed.
We bet Atlanta's not thrilled with that tie-breaking procedure considering the strength of the respective divisions. Especially since, under a tie scenario, the Celtics would boast homecourt advantage in the Eastern Conference Finals should the teams meet there.
PODCASTS
Barry Melrose, NHL
Play Podcast ESPN NHL analyst Barry Melrose talks about big wins for the Bruins and Sharks on Thursday night and compares the end of Wayne Gretzky's career to the end of Michael Jordan's career.
Broussard And Virk On Another Gronkowski Surgery
Play Podcast Adnan Virk and Chris Broussard discuss another surgery on Rob Gronkowski's broken forearm and wonder if Gronkowski's inability to heal from this injury is a red flag for the rest of Gronkowski's career.
Russillo And Virk On Bruins Over Leafs
Play Podcast Ryen Russillo and Adnan Virk discuss the Bruins' incredible comeback against the Leafs, put the game in historical perspective and talk about how crushing the loss is for the people of Toronto.