BOSTON -- A collection of pregame news and notes before the Boston Celtics host the Denver Nuggets Wednesday evening at TD Garden:
The rundown (a quick look at the pregame headlines)
* Rivers: TA ready if called upon
* Tough situation for Dantley, Nuggets
* Allen and Twellman complete No. 20 jersey swap
Rivers: TA ready if called upon
Seventy games into the season and with the Celtics as healthy as they've been this season, coach Doc Rivers doesn't have much to update the media on before games any more. For the first half of the season, there was a nightly check on the MASH unit, but Wednesday there was only small chatter about the decline in minutes for Tony Allen.
"I guess if Tony had been playing, you'd be asking me about [Brian Scalabrine] and whoever is not playing," Rivers jabbed when asked about Allen's decline in minutes. "The bottom line is that not everyone is going to be playing. Tony, right now, is not playing. But he's working hard and I think he's ready to play when we need him."
"When we needed him" amounted to 6.5 seconds in the first quarter and two minutes of trash time in the fourth in Monday's loss to the Utah Jazz. With Michael Finley on board, Allen has been phased out of the rotation, logging 36 minutes over 10 games since the veteran swingman arrived.
Rivers noted that, should any of the bench players falter, he has faith in Allen to ramp back up his minutes.
"The whole bench understands that," said Rivers. "That's why they're all playing hard -- they all want to play."
Rivers noted that he's fine with using as many players as he is off the bench, using all seven of his reserves Monday against Utah. He suggested he might trim back as the playoffs near, when Boston is likely to lean on a five-man reserve unit that should feature Finley, Nate Robinson, Marquis Daniels, Rasheed Wallace and Glen Davis.
"Not right now," Rivers noted about cutting back on the use of his bench. "We're pretty good right now. We know what we want. No, I kind of like where we are at. We're in no hurry."
Tough situation for Dantley, Nuggets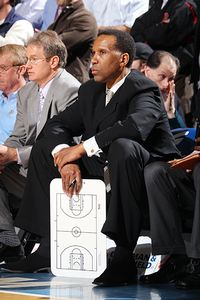 Nathaniel S. Butler/NBAE/Getty Images
Adrian Dantley has taken the reins from George Karl.George Karl could miss the remainder of the regular season as he undergoes a rigorous six-week treatment program of radiation and chemotherapy after being diagnosed with neck and throat cancer last month.
Assistant coach Adrian Dantley is handling the head coaching duties without Karl and has led the Nuggets to a 5-3 mark during his absence. But he admitted before the game it's been a challenging situation for everyone.
"All I can do is just work as hard as I can, do the best I can for us to win basketball games," said Dantley.
Rivers lamented the situation, particularly with the Nuggets clinging to the No. 2 seed in the Western Conference entering Wednesday's game.
"That would be tough -- really tough," said Rivers. "I can't remember any circumstance like that, to be honest. Do you coach under your own personality? Do you try to continue the same voice? I don't know how you do that. That's very tough. Obviously, it's not just Adrian. The whole team is playing under extreme circumstances right now."
Allen and Twellman complete No. 20 jersey swap
Chris Forsberg / ESPN Boston
The Revolution's Taylor Twellman has Ray Allen's No. 20 draped over his shoulder after a pregame jersey swap.Celtics guard Ray Allen and the New England Revolution's Taylor Twellman -- both who wear No. 20 -- held a ceremonial jersey swap on the Garden floor before Wednesday's game. Twellman and the Revolution kick off their 2010 season on Saturday in Los Angeles against the David Beckham-less Galaxy (he's recovering from Achilles heel surgery).
Twellman had Allen's jersey slung around his neck as he talked with the media after the swap, while Allen had Twellman's shirt hanging in his locker. Twellman will visit with Comcast SportsNet's broadcasting tandem of Mike Gorman and Tommy Heinsohn during the second quarter of Wednesday's game.