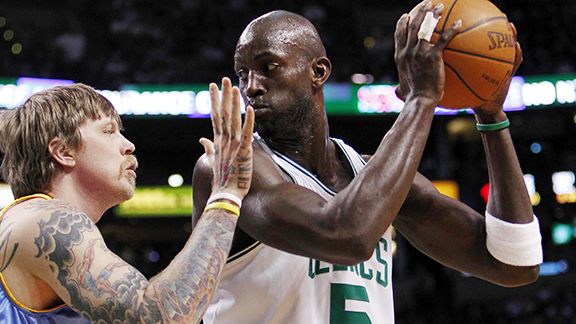 Greg M. Cooper/US Presswire
The Celtics locked up a playoff berth with Wednesday's win.BOSTON -- Instant reaction after the Boston Celtics posted a 113-99 triumph over the Denver Nuggets Wednesday evening at TD Garden:
How the game was won:Rajon Rondo logged a triple-double (11 points, 11 rebounds, 15 assists), while Paul Pierce scored a team-high 27 points on 10-of-16 shooting despite early foul trouble, but it was forgotten man Tony Allen who might have stolen the show by scoring 13 points and providing much-needed defensive help off the bench as Boston produced its biggest home victory of the season. Carmelo Anthony scored a game-high 32 points on 9-of-23 shooting.
Playoff alert: Not that it was in jeopardy, but the Celtics clinched a postseason berth with Wednesday's win.
Turning point I: The Celtics boasted only a five-point lead when Pierce departed after picking up his third foul with 4:05 to play in the second quarter. Allen -- of all people -- provided a spark, scoring eight of his 10 second-quarter points to close out the period and send Boston into the intermission up, 61-51.
Turning point II: While Boston led by as much as 21 in the third quarter, Denver closed out the period on a 20-6 run to slice its deficit to seven heading to the final frame. Nate Robinson connected on a 3-pointer and Allen added a reverse layup to quickly push the cushion back to double digits.
Stat of the game: Boston turned the ball over only four times through the first two-plus quarters, aiding them in building a 20-point cushion. The Celtics finished with 11 turnovers, which led to only four points for Denver.
Unsung hero: Allen's efforts simply can't be overstated. In Monday's loss to Utah, he logged 6.5 seconds in the first half, then played two minutes of trash time to close out the game. On Wednesday, he couldn't have been more valuable, both in providing an offensive spark off the bench and playing spectacular defense on Anthony.
What it means: The Celtics have won a season-high four games in a row at home, but after beating a set of tomato cans in the Pacers, Pistons and Knicks, Boston beat a team Wednesday that entered the game holding the second seed in the Western Conference (even if they've been miserable on the road at 17-19).