The Kings announced on Thursday that guard Tyreke Evans will miss the team's next two games, including Friday's tilt with the Celtics. Here's a bit more from the Sacramento Bee: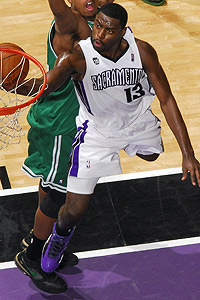 Rocky Widner/NBAE/Getty Images
Sacramento's Tyreke Evans remains sidelined for Friday's game vs. Boston.
As the Kings neared the end of practice at Emerson College on Thursday afternoon, Tyreke Evans strolled over to the huddle and joined his teammates, as though everything was OK.

Unfortunately for Evans and the Kings, that wasn't the case.

The team said Evans, who still feels the effects of the concussion he suffered last Friday night against the Milwaukee Bucks, would miss the next two games.

Evans, who has missed the previous three games, will sit out today against the Boston Celtics and Sunday in Cleveland against the Cavaliers.

"He didn't look too well," Kings coach Paul Westphal said. "He got dizzy again, and we pulled him out of practice."
Evans flirted with a triple-double when the Celtics visited Sacramento last month, registering 17 points, 11 rebounds, and 7 assists over 41 minutes. He made the final moments tense, hitting a 3-pointer with 6.5 seconds to play to pull the Kings within a point, but Boston hung on to emerge with a 95-92 triumph on the first game after the All-Star break (also Eddie House's final game with the Green).
After punching their postseason pass with Wednesday's win over the Nuggets, the Celtics can lock up the Atlantic Division crown Friday with a win over the Kings (or if Toronto loses to visiting Denver). Boston is 10.5 games up on the Raptors with 11 games to go on its schedule.