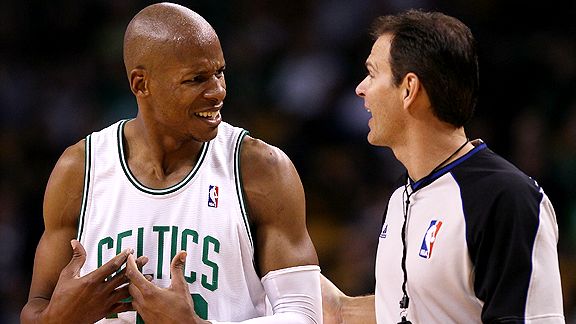 Elsa/Getty Images
Ray Allen is upset with one of many calls against the Celtics Wednesday.BOSTON -- Oklahoma City's Kevin Durant entered Wednesday's game against the Celtics leading the league in free throws made at 654, connecting on nearly 100 more free throws than second-place LeBron James (557).
(The same James, by the way, who attempted 16 charity chucks in a win over Boston earlier this month.)
Only Orlando's Dwight Howard had attempted more free throws (754) than Durant (733), and Oklahoma City's star swingman had nearly double the amount of attempts as the nearest Celtic (Paul Pierce, tied for 20th in the league at 385).
So the fact that Durant ended up at the charity stripe 15 times Wednesday wasn't shocking. But put in the context of the game, it left some, including Kevin Garnett, shaking their heads.
"I thought we were playing Michael [expletive] Jordan tonight the way he was getting the whistle," Garnett vented. "Durant damn near shot more free throws than our whole team."
To be clear, the Celtics did not pin all the blame on Wednesday's 109-104 loss to the upstart Thunder on the referees. The refs weren't the ones who were late closing out on Jeff Green as he drilled a pair of ice-water-in-his-veins 3-pointers in the final two minutes to help Oklahoma City emerge with another monumental win this season.
But on a night Boston shot 59.5 percent from the floor, generating a staggering 44 field goals against a top-10 scoring defense, a 34-17 free-throw attempt disparity between the teams stood out like a sore thumb on the final box score.
The Celtics connected on 13 of their 17 attempts (76.5 percent), while Oklahoma City made 28 of their 34 (82.4 percent). So try as they might, after a frustrating loss in which the Green played exceptionally well at times, they simply couldn't get over that number.
"I don't know, [refereeing is] not my call," said captain Paul Pierce. "I'm just a player out there playing. The referees, they make the call. It is what it is. I can't control that part of the game, I just have to control what I do as a player and as a team.
"Yeah, we have to do a better job keeping them off the line. They shoot 34 free throws, and that was the emphasis before the game that we can't foul them. They shoot 80 percent as a team from the line, and they did it again tonight. So you can't allow them to get to the line as many times as they did, and shoot 50 percent from the [field]."
Click HERE to read the full story.