BOSTON -- With an alley-oop lob to Kevin Garnett on Friday night at TD Garden, Boston Celtics guard Rajon Rondo broke Bob Cousy's single-season franchise record by registering his 716th assist.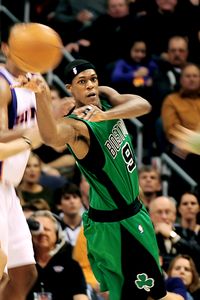 Mark J. Rebilas/US Presswire
Rajon Rondo broke Bob Cousy's 50-year-old single-season assist record on Friday.Rondo entered Friday's game against the Houston Rockets one shy of the 50-year-old mark and tied Cousy's 1959-60 total by assisting on a 3-pointer by Paul Pierce 90 seconds in. With 8:45 to play in the first quarter, Rondo lobbed a perfect feed to Garnett from the top of the key, and the easy slam established the new mark.
The Celtics honored Rondo during the first timeout by acknowledging the record and the Garden crowd gave him with a standing ovation as the JumboTron displayed Cousy's No. 14 in the rafters.
"If Cousy had it that long, it's pretty damn impressive," Celtics coach Doc Rivers said after Thursday's practice. "I'm so not impressed with numbers, if you want me to be honest, but obviously it's been a record that stood a long time, so there has to be some good in there."
Last week, Rondo passed Rick Fox to establish a franchise single-season record for steals. He entered Friday's game with 176 thefts on the season.
"[The records] may mean more to me once I retire or I am away from here," Rondo said last week. "I am just focused on winning."