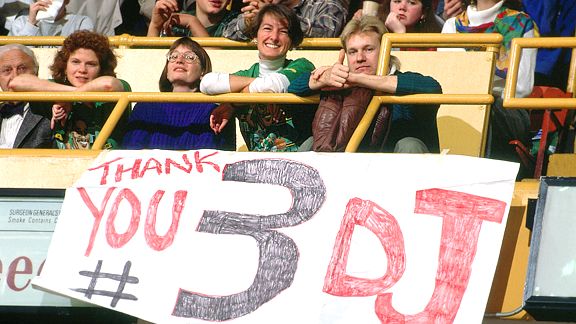 Lou Capozzola/Getty Images
Fans show their support for Dennis Johnson at the old Boston Garden.Former Celtic guard Dennis Johnson, who played with the original Big Three and helped Boston win two NBA titles (1984 and '86) and Seattle win one (1979), has been elected to the Naismith Hall of Fame, the Boston Globe and WBZ's Steve Burton are reporting. The official announcement is expected to come Monday morning, according to the reports.
The Celtics have not confirmed the news.
Johnson, who died at age 52 of a heart attack in February 2007, played 14 seasons in the NBA, the final seven with Boston. He was considered a defensive specialist and one of the top guards of his era. He was one of 19 nominees who were announced in February, and many in the basketball world feel his inclusion in the Hall is long overdue.
Johnson, known as DJ, was a five-time All Star and was named the 1978-79 NBA Finals MVP.
Johnson, who played four years with Seattle and three with the Phoenix Suns, had his number 3 retired by the Celtics in 1991.