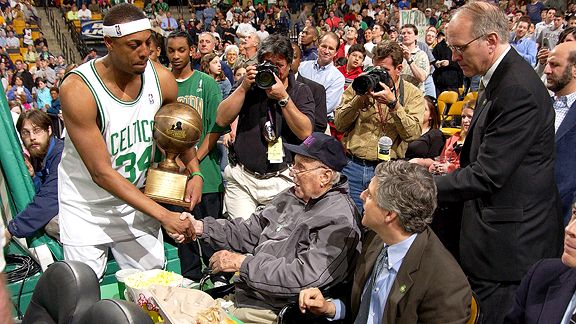 Brian Babineau/NBAE/Getty Images
Paul Pierce receives the inaugural Red Auerbach Award in 2006.The Boston Celtics will hand out their annual Red Auerbach Award before Friday's game against the Washington Wizards.
The award, handed out annually since the 2005-06 season, is given to a Celtics player who best exemplifies the spirit of what it means to be a Celtic through performance on the court and off. This award is named in honor of legendary coach, general manager, and president of the Celtics, the late Arnold "Red" Auerbach.
Previous winners include Paul Pierce (pictured above, 2006), Al Jefferson (2007), Kevin Garnett (2008), and Ray Allen (2009). Rajon Rondo would appear to be the odds-on favorite to walk away with the award tonight, particularly since Celtics legend Bob Cousy will be join CEO Wyc Grousbeck and owner Steve Pagliuca in handing out the hardware.