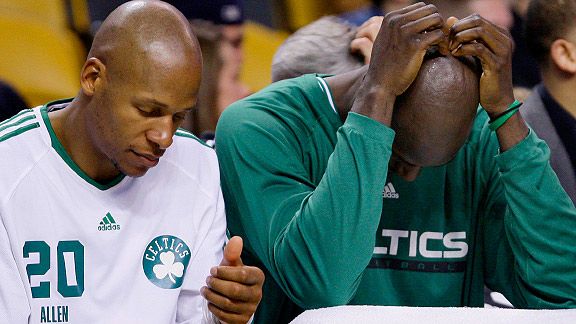 AP Photo/Charles Krupa
Kevin Garnett and Ray Allen express frustration during Friday's loss to the Wizards.MILWAUKEE -- While the impending arrival of postseason basketball might be enough to shake the Celtics from their woes of inconsistency and lack of motivation, there's one troubling pattern emerging that needs tightening up above all else before that second season arrives: Defense.
The Celtics have allowed 104 points or more in each of their last six games, boasting a 2-4 mark during that stretch. For the season, Boston is a mere 14-16 when opponents score more than 100 points, and just 12-12 when opponents score 90-99 points. By comparison, Boston is 23-2 when holding opponents below 90 points.
Now, that probably shouldn't come as a surprise. Any team would thrive holding an opponent under 90 points. But clearly the win-loss numbers show that, if Boston doesn't tighten up its defense, there's no reason to believe it won't continue to simply be the .500 team it's been since Christmas.
After Friday's loss to the Wizards, Celtics coach Doc Rivers noted how important defense can be to ensuring the team also finds a rhythm offensively.
"When teams score on us, we get so dispirited, it takes 15 seconds to get the ball out of bounds, then we're walking up the floor because everyone is [upset] that the other team scored," said Rivers. "We have to be a better defensive team, that's clear. We couldn't run [Friday] because they used 22 seconds [of the 24-second clock] on every possession and scored. That made it an efficient offensive game for them and a walk-the-ball-up-the-floor for us. What I'm trying to get them to do is run on the makes. And we haven't done that very well."
Kevin Garnett didn't quite agree with his coach's "hanging head" assessment, but it was evident to anyone that watched Friday's game how frustrated the Celtics were getting as Andray Blatche and JaVale McGhee tore up Boston's interior defense.
"I wouldn't say we hung our heads, but every guy on here is very powerful, we take a lot of pride in guarding, so when someone scores, it does upset that individual and we all feel it," said Garnett. "But I don't think we hang our heads. Obviously, [Rivers is] on the side and he's reading body language. Doc always calls it like he sees it... I just think every guy wants it so bad and, at the same time, they try to do it themselves, and we are a team that always does things together, and when we are successful when we do it together.
"It's just hard, especially when we get to the end of the first quarter and we are down, 30-17, and everybody starts to hit -- not the panic button -- but tries to pick it up in different ways. And when it doesn't come together or you miss some shots, and it doesn't help when the crowd boos and all these other things, then you have to grow tighter together. It's not easy, we know that. This journey -- this duration in which we are traveling -- is not going to be an easy one, and [Friday] was a difficult one. I wouldn't say we hang our heads, but every individual is trying to figure out what to do and what they can do individually to try to pick it up."
Ray Allen is all for the take-it-and-run approach.
"Get the ball out of bounds, run up the floor and try to run it down their throat, that's my mentality," said Allen. "Whatever break down in communication, we always have to remember that the other team is getting paid just like we do. And if somebody scores, you just have to get the ball out, get it up the floor. We can't hang our heads. I think we have the tendency to do that."