Euthanized and eulogized?
April, 15, 2010
4/15/10
1:15
PM ET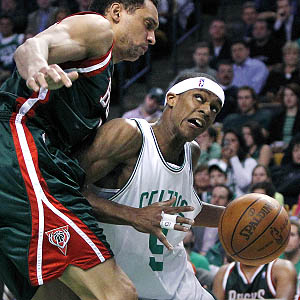 AP Photo/Elise AmendolaNot even Rajon Rondos' youth can convince some that the Celtics are over the hill.
ESPN.com's J.A. Adande provides an NBA playoff preview by handing out a handful of postseason superlatives. The honor bestowed upon the
Boston Celtics
: Most ready to be euthanized and eulogized. From Adande:
The only case for extending their season into the second round of the playoffs is to see them go against the Cavaliers, based on all the vitriol that emanated from their last meeting. Otherwise, they've passed their expiration date.

The Celtics took the right approach. In 2007, they threw a group of accomplished but unsatisfied veterans together and hoped they could win a championship. Last summer, they tried to extend the window by bringing in another veteran with championship experience, Rasheed Wallace. They went 1-1.

The surprise is how meekly they've gone down. They lost 16 home games this season, four more than the previous two seasons combined. They've lost nine games by double digits, matching their total from 2007-2009.

As disappointing as this season has been, it hasn't been so bad they're going to take down the 2008 banner. The strategy was worth it. I wish more teams would go all-in for a shot at a championship.

But they need to get this over with as quickly as possible because there won't be any gallant last stand. They don't have the same ferocious defense or unmistakable camaraderie. Now there are reports that coach Doc Rivers is ready to leave. Rivers called it "old news." He called it "a nonissue, for me, right now." He didn't call it "untrue."

He should move on. Everyone who can should. Call in the crew that handled the old Boston Garden demolition and let them take this roster apart. The painful part is that Kevin Garnett and Rasheed Wallace still have two years remaining on their contracts, worth almost half the salary cap between them. This won't be enjoyable to watch. Hopefully, there's as little programming as possible.
Click
HERE
to read the full story.
(h/t: MrTripleDouble10)
PODCASTS
Peter King, NFL
Play Podcast Sports Illustrated's Peter King weighs in on the Patriots' offensive line, the outlook for New England, Jim Harbaugh's relationship with his team and the Cowboys' success.
Opening Rant, 9/30
Play Podcast Colin Cowherd shares his thoughts on the state of the Patriots, New England's offense and Brady Hoke's future at Michigan.
First Take
Play Podcast Skip Bayless & Stephen A. Smith debate if the Patriots dynasty is over, if the 49ers have stopped listen to Jim Harbaugh and more. Plus, they make their World Series predictions.