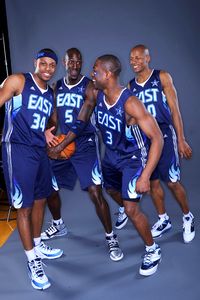 Jennifer Pottheiser/NBAE/Getty Images
The Big 4? Paul Pierce wouldn't mind seeing Dwyane Wade in Boston.MIAMI -- Dwyane Wade in a Celtics uniform? It's a pipe dream for certain, but Boston captain Paul Pierce couldn't resist joking about it when a Miami reporter asked him about Wade's future Saturday.
"You know what, I really don't even think about what's going on down here," said Pierce. "A lot of people talk about Wade being a free agent, but unless he's going to consider being a Boston Celtic, then..."
Pierce trailed off for a second before adding an inquisitive and comedic, "Is he thinking about it?" which drew laughter from the media. The captain kept it light from there.
"I've never been in a free-agent situation, I've never had a summer where I've had to make any type of decision, so I don't know," Pierce said. "He is probably thinking about winning a championship [wherever he signs]. We'd like to see him in a Boston Celtics uniform. It'd be nice. Tell him we'll make room."
The Celtics have already committed $63.3 million next season to a mere six players, and that's without a potential re-signing of Ray Allen, so president of basketball operations Danny Ainge will likely need to be frugal when filling out the roster in the offseason (assuming Pierce doesn't trigger an early termination option at season's end).
The NBA salary cap is projected to be $56.1 million. The Celtics spent in the neighborhood of $86.6 million this season.