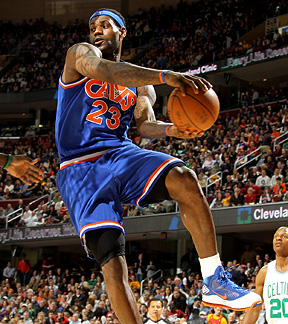 Nathaniel S. Butler/NBAE/Getty Images
Slowing LeBron James is pivotal for the Celtics. Stopping his supporting cast is imperative.The key for the Celtics against the Cavaliers won't be stopping LeBron, but rather holding his supporting cast in check and winning the battle of the benches.
Earlier this week we examined three potential key story lines when the Celtics and Cavaliers joust in an Eastern Conference semifinal series starting Saturday in Cleveland.
Today, we dig beneath the surface on those topics, with a focus on how Boston is preparing for the key elements of this series.
ESPN.com's panel of 10 experts all picked the Cavaliers to win this series and with good reason. Top-seeded Cleveland appears to be overflowing with talent that didn't exist in 2008 when these two teams last met in the postseason.
Will it be enough to push the Cavaliers over the top, particularly after an exit in last year's conference finals? Read the breakdown and check out our prediction at the end.
Click HERE to read the full scouting report. Hop HERE for a position-by-position breakdown in gallery format.