Boston's Glen Davis and Cleveland's Anderson Varejao combined to start 28 playoff games last season. This year, they've both been relegated to reserve roles, yet the pairing might ultimately be the most important head-to-head matchup when the Celtics and Cavaliers tip off their Eastern Conference semifinal series Saturday night at Quicken Loans Arena.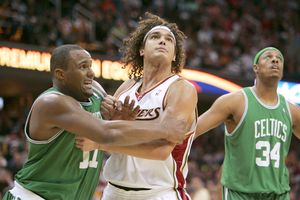 AP Photo/Mark Duncan
Bench players Glen Davis of Boston and Anderson Varejao of Cleveland do a lot of the little things to help their teams win.In a series where the rosters overflow with talent, it's clear both teams have reloaded for the 2009-10 playoff run. Boston pieced its Big Three back together with a healthy Kevin Garnett, while Cleveland surrounded newly crowned two-time MVP LeBron James with weapons such as Shaquille O'Neal and Antawn Jamison.
Those additions pushed Davis and Varejao out of the starting roles they enjoyed last postseason, but the duo remains in the spotlight in a series that could ultimately be decided by the play of the benches.
Forget LeBron vs. Pierce. Don't even worry about KG vs. Jamison. Look past Rondo vs. Mo.
This series will be decided by "Big Baby" vs. "Wild Thing."
The two players are more similar than immediately meets the eye. Both are capable of providing a spark off the bench, both can be overly dramatic and flamboyant, and, most importantly, both do all the little things that hardly show up in the box score, such as keeping rebounds alive, chasing loose balls, and taking charges.
"He's the biggest threat on the floor," Davis said of Varejao. "At the end of the day, that's what's going to win the series is the energy guys.
"He's everywhere. He's a pest. He's showing off screens, he's getting his hand on balls. He's getting rebounds. He's getting easy putbacks, getting free-throw rebounds. His energy is a big key for that team. What he brings is hard to find. He's the type of player that can determine a game."
Click HERE to read the full story.