Going gets tough...
May, 1, 2010
5/01/10
4:20
PM ET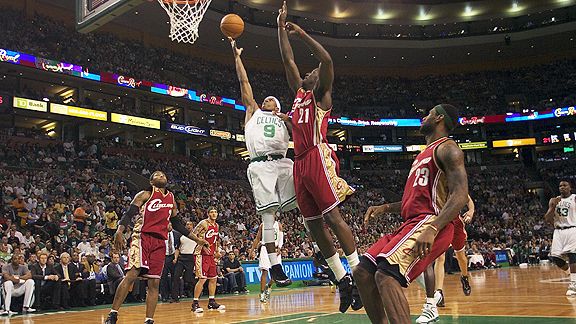 Kelvin Ma/Icon SMIIt's always tough going for Rajon Rondo at the rim against the Cavs.
Tom Haberstroh, an ESPN Insider contributor and HoopData.com analyst,
analyzed the Celtics' inside scoring against quality opponents

and found some eyebrow-raising stats:
It's time to throw away regular-season records and the mythical sense of momentum. These things do not matter in the NBA playoffs. In the postseason, it's all about matchups and, in a first-to-four format, the team that exposes its opponent's weaknesses and successfully hides its own will conquer and advance. So the Boston Celtics had better hope the Cleveland Cavaliers' coaching staff has not discovered the secret that has plagued Boston all year: It can't score inside matched up against top post defenses.

Looking at statistics about the Celtics' inside game, courtesy of HoopData.com, you'll find that they finish at the basket better than just about everybody in the NBA. A 64.4 field goal percentage on shots at the rim (layups, dunks and tip-ins) places the Celtics second in the NBA -- just behind their second-round opponent. But while Boston's overall numbers look dominant on the surface, a closer inspection reveals an opportunistic post game that could spell its demise against top foes.

Evidently, when the going gets tough, the Celtics get intimidated. Just as you wouldn't call Jason Campbell a great passer after throwing for 340 yards against the Lions' lousy D last season, you have to weigh NBA stats for strength of opponent, too. So, after grouping the top 10 teams in lowest opponent at-rim field goal percentage, we find that the Celtics shoot 58.3 percent, whereas the rest of the NBA shoots a comparable 58.5 percent (and that includes the New Jersey Nets and Minnesota Timberwolves). All of a sudden, the elite Boston inside game looks decisively average. Turns out, the Celtics just feasted on weak interior defenses, hitting 67.4 percent of their at-rim attempts against the 20 worst defensive teams in that category.
Stats don't lie. Check out the breakdown:
Celtics starters at-rim FG%
| Player | vs. Good | vs. Avg | vs. Poor | Total |
| --- | --- | --- | --- | --- |
| Kendrick Perkins | .740 | .723 | .782 | .747 |
| Paul Pierce | .544 | .742 | .636 | .640 |
| Rajon Rondo | .580 | .671 | .685 | .642 |
| Ray Allen | .644 | .644 | .800 | .678 |
| Kevin Garnett | .600 | .691 | .672 | .652 |
Click
HERE

to read the full story.
(h/t:
CelticsHub
)
PODCASTS
Adam Schefter, NFL
Play Podcast ESPN NFL Insider Adam Schefter weighs in on the Panthers' WR situation, Julian Edelman's future with the Patriots, Vince Wilfork's decision to ask for his release and more.
Spanning the Globe: 3/13
Play Podcast "Spanning the Globe" features ESPN Boston's Mike Reiss, Yahoo! Sports' Eric Edholm and ESPN LA 710's Mark Willard.
John Farrell, Red Sox
Play Podcast Red Sox manager John Farrell talks about whether he expected his team to make such a turnaround in one season, his relationship with his players, fans' expectations for the squad and more.