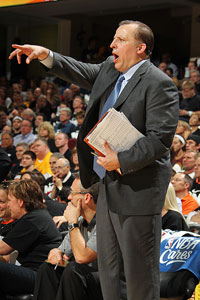 Nathaniel S. Butler/NBAE/Getty
Celtics associate head coach Tom Thibodeau is drawing interest from other teams yet again.Celtics coach Doc Rivers probably wouldn't mind having Tom Thibodeau at his side for the remainder of his coaching career, but even Rivers isn't bashful about telling teams to steal him this offseason.
When asked by Cleveland reporters about Mike Brown's rise from buzz-worthy assistant in San Antonio to coach of a Cavaliers squad that finished with the best record in the NBA this season, Rivers took the opportunity to shine the spotlight on Thibodeau.
"I had heard of [Brown] because he was in San Antonio, and knowing [Spurs coach Gregg Popovich] and that group, then he went to Indiana [as an associate head coach], so I knew about him," said Rivers. "You hear all a lot about assistants. I have one, Tom Thibodeau, that, in my opinion, should be a head coach now and should have been one. Hopefully he gets a shot as well."
Rivers noted the buzz factor that grows around a sought-after assistant and, for the second straight postseason, that hum seems to be growing around Thibodeau.
"When a name gets hot -- and Mike's name got really hot right before Cleveland took him, it was almost like he had his choice of jobs," said Rivers. "Clearly, he's done well with it."
Thibodeau boasts two decades of experience as an NBA assistant and is in his third year with Boston, helping revitalize the Celtics' defense in the new Big Three era. He reportedly drew interest from the New York Knicks, Chicago Bulls, and Philadelphia 76ers given their head coach vacancies in recent years.
Last month, a report indicated the New Jersey Nets could be eying Thibodeau, while Celtics president of basketball operations confirmed to multiple outlets this past weekend that the Los Angeles Clippers and New Orleans Hornets expressed interest in talking to Thibodeau. The Chicago Bulls fired head coach Vinny Del Negro on Monday and it wouldn't be surprising if Thibodeau ended up among the names bandied about for that job.
"He's a very good coach," Ainge told the Boston Herald. "Everyone with a job opening should take the time to talk about Tom. Philadelphia interviewed him last year and had a good experience."