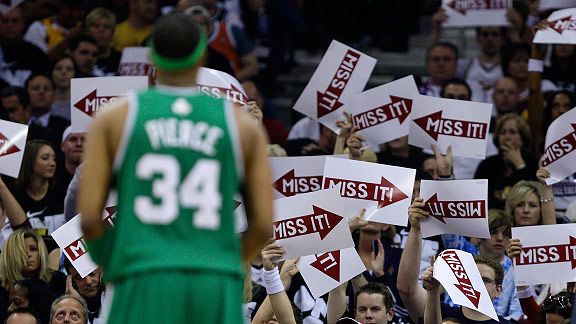 AP Photo/Mark Duncan
Paul Pierce is happy to have earned a split in Cleveland.Passing along a trio of Celtics-related stories this morning:
Celtics say they're ready to hold court
BOSTON -- Considering that some were penning their epitaph following Saturday's Game 1 loss, you'd think the Celtics would be overjoyed to be back in Boston with their Eastern Conference semifinal series against the Cleveland Cavaliers knotted at one game apiece.

Gregory Shamus/Getty Images

The Celtics held some anger they let Game 1 in Cleveland slip away, but they channeled that energy to a big win in Game 2.And while Boston is hardly complaining, you get the feeling the team is actually a bit angry it's not up 2-0 at this point.

"I think we're upset as a group," Celtics forward Glen Davis said after Monday's Game 2 triumph. Boston let Game 1 slip away when Mo Williams sparked Cleveland's third-quarter, double-digit comeback. "We can't do anything about [Game 1]. Now we've got to go up [to Boston] and defend home court."

Coach Doc Rivers could sense that anger in his team after Game 1 and was happy the Celtics found a way to channel that energy toward something positive. After stressing that Boston simply needed to win one of four potential games in Cleveland, he's not in the position to be particularly greedy.

"I'll take it," said Rivers. "We had a shot in Game 1, but we didn't get it. We can't live in the past. I told the guys that. They were angry. I said, 'You can't get it back -- nothing you can do about it. It's over with.' I'm glad they kind of moved on."
Click HERE to read the full story.
C's Thibodeau makes sense for Nets
Tom Thibodeau went on a job interview Monday night without even knowing it. As the Belichickian defensive coordinator of the Boston Celtics, Thibodeau moved himself a little closer to the New Jersey Nets bench by slapping the Game 2 brakes on a runaway MVP, LeBron James.

Brian Babineau/NBAE/Getty Images

Tom Thibodeau did nothing to hurt his reputation during the Celtics' championship run in 2008.Thibodeau isn't the sexiest of candidates, nor does he match up with the assumption incoming Nets owner Mikhail Prokhorov will chase a big American name with his bigger Russian checkbook.

But an external audit of a Nets coaching search that hasn't started in earnest turned up evidence Thibodeau could be the last man standing when Rod Thorn is ready to tell Prokhorov who should lead the team from Newark to Brooklyn and beyond.
Click HERE to read the full story.
James to undergo another MRI on elbow
INDEPENDENCE, Ohio -- LeBron James and his scrutinized right elbow remained out of sight on Tuesday, deepening the mystery about his perplexing injury.

David Liam Kyle/NBAE/Getty Images

LeBron James will get another MRI on his elbow.Hours after being embarrassed on their home floor by the Boston Celtics in Game 2, the Cleveland Cavaliers were summoned to their practice facility by coach Mike Brown to watch tape of the 104-86 loss that evened the Eastern Conference semifinal at 1-1.

Although Game 3 isn't until Friday, Brown wanted to dissect and digest went wrong.

"I had a lot to say to the guys about our performance," said Brown, who was critical of his own effort. "I thought we need to develop a sense of urgency in this series and throughout our run. I thought why not have last night be a good start to that."

After the team's film session broke up, James, who will have a third MRI in less than 10 days on his injured elbow later this week, was not seen when the Cleveland Clinic Courts were opened to the media. The team said James was at the facility receiving treatment on his elbow, but there was no visual proof.
Click HERE to read the full story.