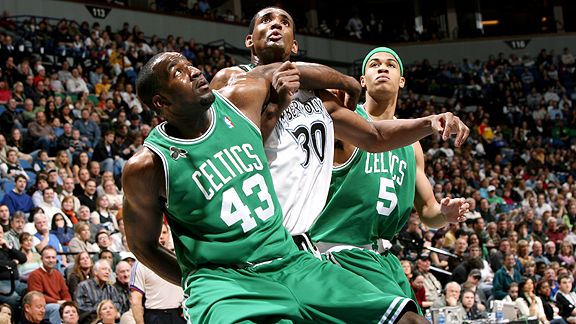 David Sherman/NBAE/Getty Images
No, really, Kendrick Perkins swears he learned things from former teammate Mark Blount.Clearing out the notebook before tonight's Game 3 with some leftover nuggets from Thursday's practice:
* C's must limit turnovers and fouls: Celtics coach Doc Rivers stressed that his team must drive down the number of giveaways and fouls in order to continue being successful. The latter we addressed in our 5 things to watch in Game 3, but Rivers noted that turnovers are giving the Cavaliers too many easy points in transition and fueling some of their second-half runs.
"They're a lot like Miami in that, if you turn the ball over, you should just give them two points, because LeBron [James] in the open court by himself, there's not a lot of options in stopping that. Hell, even when you try to foul, he still scores through the contact. The type of turnovers we've had are bad. We've had open-court turnovers, cross-court pass turnovers, and we can't have those in this series -- or any series.
* Need for 'Sheed, The Sequel: Asked if the Celtics needed another big effort from Rasheed Wallace, Rivers joked, "I'm all for it." But he noted that, regardless of his offensive output, the key for Wallace is maintaining his focus in the defensive end. "I think, publicly, his shooting and scoring is what everyone saw. For us, it was more the defense and things like that. He did a lot of little things in Game 2 that we need him to do again. His defense was good, we need that. We need a sustained defensive effort at the 5 and the 4 spot, for 48 minutes. And that's not just Rasheed, but everybody. Those two positions are really important for us."
* 'Sheed's wake-up call: After telling the Celtics radio broadcasters that he had a heart-to-heart with Wallace in the showers sometime before Game 2, Kevin Garnett was asked how exactly he woke Wallace up. KG chuckled at the question Thursday, then playfully announced, "I slapped his ass!"
* Thibs interviews with Hornets: According to the Associated Press, New Orleans general manager Jeff Bower, team president Hugh Weber, and soon-to-be owner Gary Chouest interviewed both Celtics associate head coach Tom Thibodeau and ESPN analyst Mark Jackson on Thursday in Boston for the Hornets' head coaching vacancy.
The Hornets have now interviewed five candidates for the job. The club also met with former Dallas coach Avery Johnson and current Mavericks assistant Dwane Casey on Tuesday, and with former NBA coach Mike Fratello on Wednesday.
* Being perfectly Blount: Kendrick Perkins generated some chuckles during the end of his chat with the media after Thursday's practice. After being snubbed a bit in the All-Defense balloting, Perkins was asked if his intimidating scowl could have affected some of the coaches that didn't vote for him, but he noted that wouldn't change because that's just how he looks. When asked about the five stitches he needed to close a gash in his lip after receiving an elbow from Shaquille O'Neal in Game 1, Perkins added, "I'm already ugly. I can't add nothing else to that, man."
But Perkins wasn't done. While discussing his defensive development, Perkins noted he's taken a little bit from all the big men he's been around, most notably Kevin Garnett. "I learned some things from Mark Blount, too," said Perkins, who even seemed to crack up at his own suggestion. "Believe it or not."