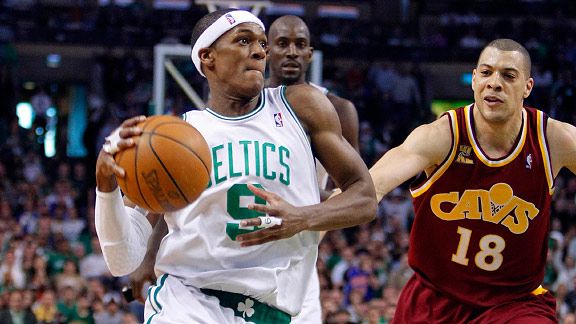 David Butler II/US Presswire
The Cavaliers had no answer for Rajon Rondo in Game 4.BOSTON -- A glimpse at the ESPN stories after the Boston Celtics defeated the Cleveland Cavaliers in Game 4 of an Eastern Conference semifinal series Sunday at the TD Garden:
Broussard: The new leader of the Celtics
The Big Three is a cool, if dull and unoriginal, nickname. So let's keep it. It's useful, reminding us that Boston has a trio of likely Hall of Famers who play with heart and guile and great skill.

But what's been hinted at for the past year has now become official. The near triple-double in last year's playoffs didn't do it. The All-Star berth this past February didn't either.

But what's been happening in this series between the Celtics and the Cavaliers, particularly what happened Sunday in Game 4, has turned the whispers into a scream, the suggestions into this undeniable, airtight fact: The Big Three no longer has a supporting cast. It is the supporting cast.

The Boston Celtics are now Rajon Rondo's team.

Just like the Phoenix Suns belong to Steve Nash, the Utah Jazz to Deron Williams, and the Chicago Bulls to Derrick Rose, this proud, dynastic franchise is now led by a versatile, 24-year-old point guard who plays unlike anyone else in the NBA.

If you think that last line was mere hyperbole, check out what Rondo did Sunday in the Celtics' 97-87 victory over Cleveland that knotted this series at two games apiece. Outshining not only The Big Three, but the league's Big One, two-time MVP LeBron James, Rondo did something only Wilt Chamberlain and Oscar Robertson can claim.
Click HERE to read the full story.
Forsberg: Trio of subs pick up the Big Three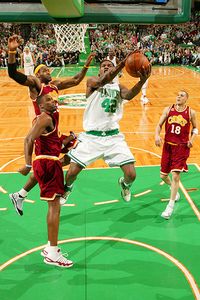 Nathaniel S. Butler/NBAE/Getty
In addition to playing stellar defense on LeBron James, Tony Allen scored 15 points on 6-of-7 shooting.
Call them The Other Three.

After the Cleveland Cavaliers rallied from double digits to tie the Celtics late in the third quarter of Sunday's Game 4 of the Eastern Conference semifinals, Boston sent out a lineup that featured reserves Tony Allen, Glen Davis and Rasheed Wallace supplementing Rajon Rondo and Paul Pierce.

That's not exactly a trio that strikes fear into the heart of opponents. Yet with Boston playing what amounted to a must-win game, the Celtics leaned on those three for perhaps the most important stretch of the 2009-10 season.

And all Allen, Davis and Wallace did was spark a 12-0 run that spanned into the fourth quarter as the Celtics pulled off a 97-87 triumph that tied the series at two games apiece as it shifts back to Cleveland.

Allen racked up 15 points on 6-of-7 shooting and finished a team-best plus-14 in the plus-minus category. Davis chipped in five points and three rebounds, while providing the type of energy that statistics can't measure. Wallace overcame four first-half fouls to be a defensive presence and, despite not making a single shot, was dubbed "amazing" by coach Doc Rivers.

"Our bench is huge for us, we can't win without them," said Pierce.
Click HERE to read the full story
May: LeBron wants a turn at Rondo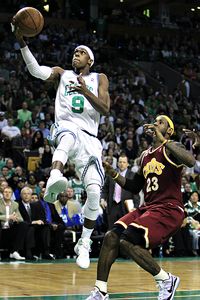 AP Photo/Charles Krupa
Rajon Rondo, who torched Cleveland for 29 points, 18 rebounds and 13 assists Sunday, may be seeing more of LeBron James in the future.
You know the cliché. Playoff series are all about adjustments. Most times, the adjustments are subtle, such as the Celtics' decision to pressure the ball more often in Game 4, which coach Doc Rivers credited with being a huge difference-maker in Boston's series-evening 97-87 victory over Cleveland on Sunday.

But how about this for an adjustment? LeBron James, first-team All-NBA defense, starts Game 5 on Tuesday night guarding the player who he says is "dominating" this Eastern Conference semifinal: Rajon Rondo.

If LeBron has any say in the matter, it could well happen. In fact, according to one courtside observer, James and Cleveland coach Mike Brown got into a heated discussion about whether James should cover Rondo at the critical moments of the fourth quarter. Brown ultimately decided against it, but that could change moving forward.

"I would love to,'' James said after Rondo had eviscerated the Cavs with 29 points, 18 rebounds and 13 assists. "It's something we maybe should explore because Rondo is definitely dominating this series at the point guard position. For me, I don't have a problem taking Rondo or guarding Rondo throughout the course of the game. If the coaching staff or the guys want me to do it, I will."
Click HERE to read the full story