LeBron on Rondo? Stats favor C's
May, 11, 2010
5/11/10
8:57
AM ET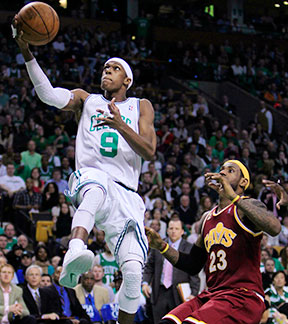 AP Photo/Charles KrupaLeBron James on Rajon Rondo. Stats say it's a favorable matchup for the Celtics.
Lost in all the hubbub about
LeBron James
potentially serving as primary defender on
Rajon Rondo
in Tuesday's Game 5 between the Celtics and Cavaliers is this: Rondo's actually done pretty well against him in the past.
The wizards at ESPN Stats and Information relay that James guarded Rondo on 10 plays over the past three regular seasons and, in that span, Rondo scored 10 points.
That averages out to 100 points per 100 plays. Against all other defenders during that same period, Rondo averaged 88 points per 100 plays.
Rondo connected on 5-of-10 shots against James and did not commit a single turnover, not exactly the lockdown statistics you might expect giving all the hype over whether James will check Rondo.
Rondo posted a triple double (29 points, 18 rebounds, 13 assists) in Boston's Game 4 victory Sunday, evening the series at two games apiece as the scene shifts to Cleveland for Tuesday's Game 5.
While much of the chatter at the Celtics' practice Wednesday centered around the Rondo-James matchup, Boston players and coaches were still buzzing about Rondo's performance.
And with good reason. According to Elias Sports Bureau, Rondo became only the third player in NBA history to post the sort of playoff numbers he did in Sunday's win. The others? Cincinnati's Oscar Robertson (32 points, 19 rebounds, 13 assists) in an overtime win over Syracuse in 1963 and Philadelphia's Wilt Chamberlain (29 points, 36 rebounds, 13 assists) against Boston in 1967.
"Wilt was pretty good," Celtics coach
Doc Rivers
said after Monday's practice, fully aware of his understatement. "Thirty-six rebounds. I saw that and it blew me away. As a team, we had [30 in Friday's Game 3 loss]. That's remarkable though. It's nice. It's such a stat-driven environment now, you can come up with stats everyday that, 'Oh, the first time in history that...' You can always come up with something. But when you have the type of game [Rondo] had, clearly not a lot of people have done it."
PODCASTS
Adam Schefter, NFL
Play Podcast ESPN NFL Insider Adam Schefter weighs in on the Panthers' WR situation, Julian Edelman's future with the Patriots, Vince Wilfork's decision to ask for his release and more.
Spanning the Globe: 3/13
Play Podcast "Spanning the Globe" features ESPN Boston's Mike Reiss, Yahoo! Sports' Eric Edholm and ESPN LA 710's Mark Willard.
John Farrell, Red Sox
Play Podcast Red Sox manager John Farrell talks about whether he expected his team to make such a turnaround in one season, his relationship with his players, fans' expectations for the squad and more.