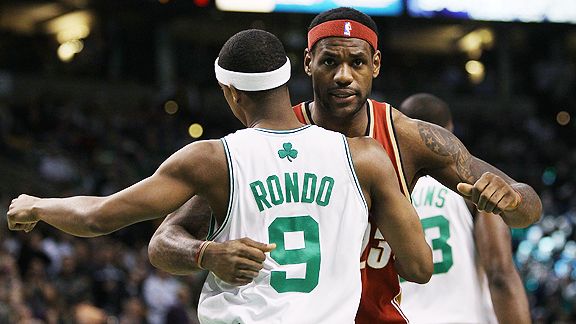 Elsa/Getty Images
The runaway MVP of the regular season, LeBron James hasn't been too shabby in the playoffs either.CLEVELAND -- A trio of afternoon links to keep you busy until tip-off in Tuesday's Game 5:
Hollinger: Can Celtics avoid late-game collapses?

Why did Boston kick away so many big leads? The Celtics won the first half of their games by an average of 4.4 points -- if they kept that up in the second half, they'd have led the league in scoring margin. Boston was particularly dominant in the second quarter, which is an oddity because that quarter is usually the one most heavily played by reserve players -- and Boston's bench was viewed as a major weakness this season.

In the second half, however, the Celtics were a bad team. Boston was outscored by 0.8 points per game after the break. In other words, they basically went from being a 68-win team before the half to a 35-win team afterward.

At first I wondered if this pattern was being exacerbated by blowout wins. That is, I needed to examine whether the Celtics were doing fine when they left their starters in but had bad second-half results because the scrubs were finishing off some laughers. But when I looked at Celtics' games where the score was within a dozen points at the end of three quarters, the exact same pattern emerged.

That sample consisted of 59 of the Celtics' 82 games, and we have a near-identical conclusion. In those tighter games, Boston didn't race out to as big a first-half lead, but their second halves were even worse. This time, the Celtics played like a 56-win team before halftime and a 29-win team when they came back out of the tunnel.

Digging a little deeper, the problem appears to be almost entirely on one end: offense. Boston gave up about one point more in second halves than in first halves, which is completely normal -- second halves tend to have slightly more scoring because of late-game fouling situations.
Click HERE

to read the full story.
Simmons: Blowing out some awards for Round 2
THE SPENCER PRATT AWARD FOR "BIGGEST ENIGMA"

Paul Pierce has played so poorly (11.8 PPG, 32 percent FG), looked so lethargic and had such a lousy expression on his face during the Celts-Cavs series that …

A. I tweeted that Pierce should start telling people he's battling Lyme disease or pneumonia, even if it's not true.

B. My father -- the same man who calls Tony Allen "Trick or Treat Tony," blames six full years of Tony exposure for possibly shortening his life, and joked after Tony had a big game in the Miami series, "I hope this doesn't mean we re-sign him" -- texted me after Game 4 to say, "We need to start Tony and bring Pierce off the bench."

C. I texted my dad back saying, "I agree."

D. ESPN Boston ran a story with the headline: "Paul Pierce: 'There's Nothing Wrong With Me.'" By the way, if it's a news story because there's nothing wrong with you, odds are you're not doing so hot.
Click HERE to read the full story. Also hop HERE for a roundtable of ESPN's experts on the playoff MVP thus far, which includes a healthy dose of votes for Rajon Rondo, including a pair of first-place nods.
Windhorst: LeBron facing Game 5 challenge
This is James' 13th playoff series, and it's only the second time he hasn't been clearly the best player. The other time was in the 2007 Finals, when he shot just 36 percent while Tony Parker vanquished the Cavs in a Spurs title sweep.

And that's not the only way in which this series is uncharacteristic. Normally when the going has gotten tough, James has made it extremely difficult to get him out.

Last season in the conference finals, though the Cavs eventually came up short against Orlando, he was relentless as he sensed danger and carried his teammates when they struggled. His epic performance included 38.5 points, 8.3 rebounds and 8.0 assists per game and a memorable buzzer-beater.

Two seasons ago in a seven-game loss to the Celtics, James averaged 26.7 points (the Cavs averaged just 85 as a team) with 6.4 rebounds and 7.6 assists. Four years ago when the Cavs went out in seven games to the Detroit Pistons, James averaged 26.6 points (the Cavs averaged just 80) with 8.6 rebounds and 6.0 assists.

But with his team threatened by the Celtics this time around, James' averages have dipped from his regular-season averages, and his inconsistent effort has driven Cavs fans crazy. And no one is quite sure what to expect in Game 5 or Game 6, which is something seldom said before about the MVP. That's especially troublesome for Cleveland, because his teammates almost always follow his lead.
Click HERE to read the full story.
And a bonus link: ESPN NY: Spike rooting for the Celtics ... because he wants LBJ in NYC