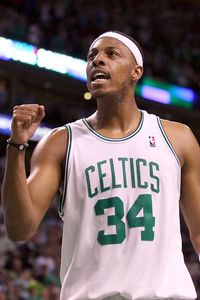 Elsa/Getty Images
Paul Pierce says the Celtics aren't overwhelmed by the win over the Cavs because they have a greater goal -- an NBA championship.Before Thursday's Game 6 of his team's Eastern Conference semifinal series, coach Doc Rivers told the Boston Celtics he was headed to Orlando regardless of how the rest of the series played out with the Cleveland Cavaliers.
But he was hopeful his charges would be joining him in The City Beautiful.
After dispatching the top-seeded LeBrons in six games, Rivers is indeed heading home to Orlando, but there's plenty of work to accomplish before he can dust off his golf clubs as the Celtics prepare to clash with the Magic in the conference finals.
In order to be successful against the Magic, the Celtics must carry over five things they did well against Cleveland to the next round.
Among the topics:
1. The defense can't rest

2. A Ticket to ride

3. Age ain't nothing but a number

4. Balanced output

5. Keeping their eye on the prize
Click HERE to read the full scouting report, including our position-by-position glance and our not-so expert prediction for the series.