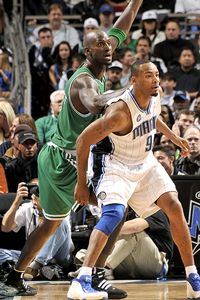 Fernando Medina/NBAE/Getty
Kevin Garnett did a nice job limiting Rashard Lewis in Game 1.ORLANDO -- Lost in all the hoopla surrounding Boston's physical play against Dwight Howard in Game 1 of the Eastern Conference Finals Sunday was how Kevin Garnett quietly made Rashard Lewis a complete nonfactor.
Lewis, who averaged 21.3 points per game against Boston during last year's seven-game triumph in the conference semifinals, finished 2-of-10 shooting, missing all six 3-pointers he attempted, and generated six points, seven rebounds, three steals, two blocks, and two assists over 43 minutes.
Lewis' athleticism allows him to do so much on the court and while he certainly filled up the stat sheet, he barely made an impact on the game, and much of that was due to Garnett's stifling defense, particularly in recovering on the pick-and-roll and contesting 3-point looks.
"Kevin was phenomenal, not only with Rashard, but just in help and recovering," explained Celtics coach Doc Rivers on Tuesday morning. "We're asking him to recover from the pick-and-roll with an angle to the 3[-pointer]. Usually, you're recovering from an angle to roll where you're running under the basket. That's the complete opposite direction. For [Garnett] to train his mind to do that, his instincts, and to do it well, that's really tough to do.
"Every pick-and-roll, most bigs, after you show on the pick-and-roll, you sprint back to the paint to find your man. With Rashard, you show and you have to sprint in the opposite direction. That's 80 games going that way, now you're going this way. Mentally, that's really difficult. You could see it in practice. Sometimes [Garnett would] take a step this way. With Rashard, if you take one that way, you're not getting back that way."
Just how important is Lewis to the Magic? Consider this: Lewis has a mind-blowing postseason plus/minus of plus-153 (a staggering +21.8 per 48 minutes) that is by far the highest of any player in the 2010 NBA playoffs. Teammate Jameer Nelson is nearest at plus-120.
Thanks in part to Garnett, Lewis finished at minus-6 in Boston's Game 1 triumph.
"Boston is a good defensive team, one of the best in the league," Lewis said after the game. "You usually can't get a shot on the first option. You have to get shots on the third, fourth, or fifth option so you have to move the ball from side-to-side and explore all of your options. A good defensive team like that isn't going to let you make one pass and get an open shot."
Lewis famously blew past Garnett for a winning layup in the final seconds of a 96-94 triumph here on Jan. 28. Much of the Celtics' success this series will be determined by whether Garnett can defend Lewis out to the perimeter, something Antawn Jamison failed to exploit in the conference semifinals, but through one game, Garnett showed he's up to the challenge.
A couple other notes from this morning's shootaround...
* Eyes on Perk's knees: Celtics coach Doc Rivers admitted that, while there are plenty of advantages and disadvantages to the three full offdays between Games 2 and 3, one will almost certainly be the rest and treatment center Kendrick Perkins will receive on his sore knees. "Perk's knees are still really bad, or bothering him," admitted Rivers. Perkins put on some different supportive sleeves at halftime of Game 1 and it will be interesting to watch his mobility and comfort level in Game 2.
* Extending the extended: Rivers said there's the opportunity to extend minutes because of the upcoming break, but noted that Boston has extended minutes throughout the preseason and doesn't expect to do anything different in Tuesday's game. "It's no secret, we've extended minutes the whole playoffs with our guys," said Rivers. "Honestly, the format has allowed us to do that. It's been great." Rivers did say he's limited the activity for his players on offdays, particularly in the cases where there is limited time between contests. "We have to be careful and we can't go too long," said Rivers. "We want to keep sharp and keep fresh, but there's a fine line. We've walked it all year."