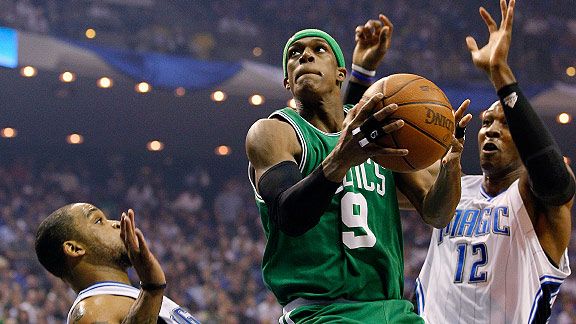 Kevin C. Cox/Getty Images
Rajon Rondo guided Boston's offensive attack.ORLANDO -- Instant reaction after the Boston Celtics posted a 95-92 triumph over the Orlando Magic in Game 2 of the Eastern Conference Finals Tuesday night at Amway Arena:
How the game was won: Celtics captain Paul Pierce scored a team-high 28 points on 8-of-16 shooting with five assists and five rebounds over 40 minutes, while Rajon Rondo chipped in 25 points on 10-of-16 shooting with eight assists, five rebounds, and two steals over 45 minutes as Boston held on to take a commanding series lead. Dwight Howard poured in a game-high 30 points, overcoming his Game 1 struggles to connect on 9-of-13 shots (and 12-of-17 free throws), but it was Boston that made the big shots down the stretch.
Turning point I: Trailing by a bucket with 9:30 to play in the third quarter, the Celtics embarked on a 13-1 run fueled by a defense that didn't allow a field goal for 6 1/2 minutes. Garnett scored six points during the burst, including a driving one-handed jam with 4:48 to go in the frame to put Boston out front, 70-60.
Turning point II: Orlando erased an eight-point, fourth-quarter deficit and Vince Carter's 20-foot jumper put the Magic out front, 90-89, with 3:35 remaining. Garnett buried a clutch turnaround jumper to put Boston back out front before Rondo's 17-foot jumper gave the Celtics a three-point advantage with 90 seconds to play. Boston hung on from there, thanks in large part to a pair of missed free throws by Vince Carter when Pierce gave his final foul of the night with 31 ticks remaining.
Stat of the game: Ray Allen connected on a mere 1-of-6 shots, missing a quintet of 3-pointers, while posting just four points, two assists, and two rebounds over 38 minutes. But the Celtics overcame the effort while leaning on Rondo and Pierce.
Unsung hero: With Kendrick Perkins in constant foul trouble and fouling out early in the fourth quarter, Glen Davis came up clutch. He connected on 3-of-4 shots for eight points with six rebounds and two big charges taken over 28 minutes.
What it means: The Orlando Magic hadn't lost back-to-back home games since losing Games 4 and 5 of the NBA Finals. That spelled the end of their 2008-09 season and, unless they can return the favor as the series shifts to Boston, it might spell their demise here in 2009-10. Boston has now won five straight postseason games and is finding ways to hold on at the end of these nail-biters.