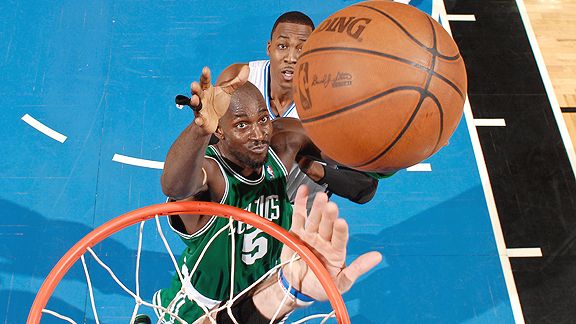 Fernando Medina/NBAE/Getty Images
Kevin Garnett it outmuscling the Magic ... and Father Time.Sitting in the visitor's locker after a thrilling midseason win over the Los Angeles Lakers, Kevin Garnet admitted that he was in a one-on-one battle with Father Time, trying to turn back the clock and be the player he once was after knee injuries left him seemingly a step slower.
When Garnett returned to the Boston lineup in January after missing 10 games due to a hyperextended right knee -- the same knee he had surgery on during the offseason and forced him to miss last year's postseason -- Garnett endured two lowlight defensive moments in which both Orlando's Rashard Lewis and Los Angeles' Ron Artest blew past him for crucial buckets in January wins for the Magic and Lakers.
If they hadn't before, those questioning whether Garnett could be the same player he was before grew louder. Pundits openly wondered if time had indeed caught up with him.
But as Garnett celebrates his 34th birthday today, he appears in full health and suddenly he's outrunning Father Time and just about everyone else on the floor. His defense is vintage Big Ticket this postseason and he has dominated Lewis during the first two games of the Eastern Conference Finals, making him an absolute nonfactor in the offensive end.
And while Garnett's own offense has lagged early in this Magic series, he was the unofficial MVP of the Celtics last round while abusing Antawn Jamison in Boston's six-game triumph over the Cavaliers in the conference semifinals. Once jagged and uneasy, Garnett simply looks more fluid at both ends of the court now.
"I am just trying to keep a hand up [against Lewis] and run him off 3[-pointers] and make him do things he doesn't want to do," Garnett said after Tuesday's Game 2 triumph in Orlando, giving Boston a commanding 2-0 series lead coming back to Boston. "He is a great player, so you really can't stop him, but just try to slow him down. With all of the attention that Dwight [Howard] gets, they do have three other All-Stars and we are just trying to recognize them all at the same time, but be aggressive with all those guys.
"We are doing it with guts and pure grit. We're playing defense for 48 minutes."
Not only did Garnett keep Lewis quiet Tuesday, foul trouble led him to pick up Howard at times and he likewise thrived against a spry Superman.
"That's not a matchup we were hoping for, I can tell you that," admitted Celtics coach Doc Rivers. "Overall, he did a great job with his length. Kevin know he's not going to win a muscle contest with Dwight Howard, but he does have length. And he stretched him out and he made him change his shots. That's good.
"We had a ton of foul trouble today, guys. That's what I'm so happy about. Obviously, winning the game, but winning the game with different guys in different positions and everybody pitching in."
But none of this would likely be possible without a healthy and productive Garnett. Rivers admitted as much when he limited Garnett at times over those final months in order to get him in prime playoff form. Father Time jumped out to an early lead, but slow and steady won the race for KG.
After averaging a shade under 30 minutes per game this season, Garnett is now logging over 34 minutes per game this postseason. A minute for every candle he'll find in his birthday cake today. And there's no mystery as to what he'll wish for when he blows those candles out: Another Larry O'Brien trophy.