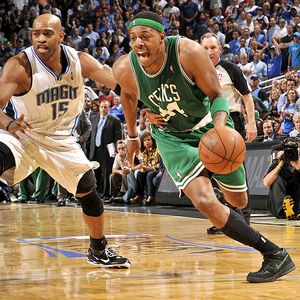 Fernando Medina/NBAE via Getty Images
Paul Pierce has been more offensively than Orlando's Vince Carter can handle.When the 2009-10 NBA season is over, the Boston Celtics should seriously consider giving Cleveland's LeBron James a playoff share.
After all, Paul Pierce's offensive struggles against James and the Cavaliers in the Eastern Conference semifinals earlier this month might ultimately be the best thing that happened to Boston all season.
Because of Pierce's low scoring totals against Cleveland, the Orlando Magic opened the conference finals by matching defensively indifferent Vince Carter with Pierce instead of going with Matt Barnes, the better defender and a more natural selection based on positions.
The Barnes-Carter flip-flop seemed to light a fuse on the prideful Pierce, who suggested throughout Boston's six-game triumph over Cleveland that his focus was on limiting James in the defensive end. That surely took some of his attention away from his offense, but Pierce has taken any lingering frustration out on the Magic.
With James househunting in Chicago, Pierce appeared rejuvenated Thursday. He's been sharp from the perimeter and he's getting to the free throw line with renewed regularity.
Pierce is overflowing with confidence and it's coming through not only in his play, but also his postgame interviews. And while Celtics coach Doc Rivers isn't thrilled with the brash opinions Pierce spouted on national TV, Rivers can't argue with his production on the floor.
That production may ultimately be the reason the Magic lose this series.
Click HERE to read the full story.