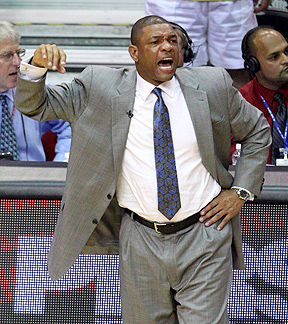 Douglas Jones/US Presswire
Celtics coach Doc Rivers was tempted to make changes during the three-day break before Game 3, but why mess with what's working?Three-day breaks in the NBA schedule sort of feel like bye weeks in the NFL. So Celtics coach Doc Rivers admitted Friday that it's hard to resist the temptation to overhaul his team's game plan given that the break might have allowed him to add some new wrinkles.
But at the end of the day, the Celtics will settle for the most minor of adjustments, recognizing that they didn't get to this point -- up 2-0 over the Orlando Magic in the Eastern Conference Finals -- by trying to be something they're not.
So what you've seen from the Celtics is just about what you'll get when the series resumes Saturday night at the TD Garden (ESPN, 8:30 p.m.).
"I probably drive my staff crazy because the more film you watch, the more things you see, and you gotta kinda cut off the temptation to change," said Rivers. "We're not a team that will change, we haven't been. When you have this much time, you want to put in five new plays and run two new defensive schemes. But you know that's not smart."
In the end, why mess with what's working? The Celtics have won five straight postseason games and are playing some of their most inspired ball of their 2009-10 season.
Plus, it's one thing to dip into the bag of tricks and catch a team by surprise -- gimmicks have a limited shelf life. But when the opposition knows what's coming and you line up and still beat them, that's the sign of a great team.
"We're going to do the same things," said Rivers. "Like I said in the Cleveland series, some teams have the ability to go small, go big or change. We unfortunately -- or maybe fortunately -- do not. We're going to be who we are and just be that."
Click HERE to read the full story.