Boston uncommon
May, 24, 2010
5/24/10
4:05
PM ET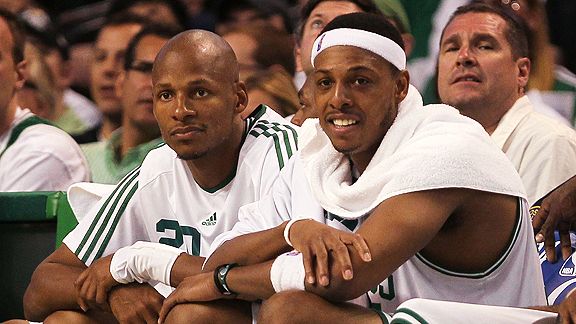 Jim Rogash/Getty ImagesThe Boston Celtics are sitting pretty in the playoffs after struggling at the end of the regular season.
Only a few teams in NBA history have ever been able to turn it on in the playoffs quite like these Celtics. How does this story end? ESPN.com's John Hollinger
looks at how past lower seeds fared

at this stage:
With the Boston Celtics on the verge of a stunning sweep of the Orlando Magic on Monday night, let's address a question I've received in one form or another for the past few days: Does the Celtics' playoff success invalidate the regular season? Can veteran teams just blow off the regular season and turn it on come April?

The Celtics of this season have drawn comparisons to two other teams. The most common is the veteran-laden 1994-95 Houston Rockets, who won a second consecutive title after limping home to a 47-35 regular-season finish. In a stirring coincidence, they swept Orlando in four games in the Finals.

"I remember them very well. Way too well," said Celtics coach Doc Rivers, who was on the San Antonio Spurs team that those Rockets upset in six games in the Western Conference finals that season. "But as far as history, we stay in-house."

When you have 17 NBA championships, you can do that. Internally, just two years removed from the Celtics' most recent title run, their barometer has been the veteran-laden 1968-69 Boston team. That club won 48 games, was a defending champion and, like this year's squad, was the East's No. 4 seed entering the playoffs. Nonetheless, it gritted out the final title of the Bill Russell era by beating a top-seeded Philadelphia team in a surprisingly easy five games in the first round before meeting the Lakers in the Finals and prevailing in seven games. Is this sounding familiar yet?

Rivers said he had talked about that team with the Celtics a bit during the regular season just to let them know the history, but some players -- such as Kevin Garnett -- had locked on to it more than others.

Nonetheless, only two teams are reference points, and it takes us back to the question of whether teams can rely on ditching their regular-season persona in the playoffs.

Let's look at history to help us. In the past half century, do you know how many teams that had the fourth-best record or worse in the conference made the Finals?

Six.

Of 100 conference champions, only six of them could blow off the regular season (landing outside the top three in the conference) and still ramp it up come playoff time. Of those, only two won the title.
Click
HERE

to read the full story.