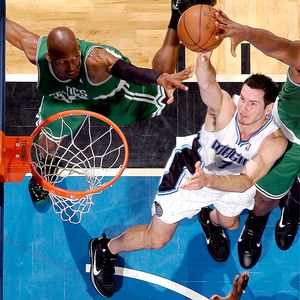 Fernando Medina/NBAE/Getty Images
J.J. Redick has provided a spark for the Magic.BOSTON -- Boston Celtics coach Doc Rivers surveyed the scene after Game 5 of the Eastern Conference finals in Orlando -- doctors and trainers scrambling about a locker room that better resembled an emergency room -- and smiled.
"It looked like a MASH unit with all the trainers and doctors," said Rivers. "I'm trying to talk and everyone's got ice. I said, 'This is great isn't it? This is the playoffs. This is what it should be about. Embrace this moment.' And I think overall, our team will."
Battered and bruised after a 113-92 loss that cut their lead in this best-of-seven series to 3-2, the Celtics limp back to Boston knowing that Game 6 could be a do-or-die situation.
The Magic are playing the brand of inspired basketball that led them to a 59-win regular season and two sweeps to open the playoffs: Jameer Nelson is killing the Celtics off the pick-and-roll; J.J. Redick is making a case for a re-vote in the NBA's sixth man of the year award; and Dwight Howard is throwing elbows like the playoffs have evolved into some sort of roller derby.
All of which led to the scene in Boston's locker room following Game 5. Bruised, both physically and maybe a bit mentally, the Celtics vowed not to return to the scene of that crime. Boston is hoping to wrap up this series during Friday's Game 6 (ESPN, 8:30 p.m.), then lick their wounds in preparations for a return trip to the NBA Finals.
Among the six topics covered: Perk being Perk; Big(s) on health; Where's the defense?; Stopping Pistol J.J.; Home sweet home?; and Keeping Rondo aggressive.
Click HERE to read the full story.