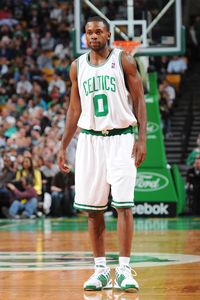 Brian Babineau/Getty Images
Oliver Lafayette could be active if the Celtics don't feel comfortable with their injured players.When the Boston Celtics signed Tony Gaffney and Oliver Lafayette on the final day of the regular season, the moves were made with the idea of securing two players expected to challenge for a roster spot next season. The fact that they got to come along on what's turned out to be a wild postseason ride was just an added bonus for the young hoopsters.
In the aftermath of Game 5 of the Eastern Conference finals, with the Green ravaged by injuries and facing a possible one-game suspension to center Kendrick Perkins, it appeared the duo could be thrust into an active role for the season's biggest game.
Perkins got a technical rescinded and will play in Game 6 against the Magic, while Celtics coach Doc Rivers classified Rasheed Wallace (back), Glen Davis (concussion) and Marquis Daniels (concussion) as game-time decisions. What's more, Tony Allen continues to nurse a nagging ankle injury that has limited his production.
While Brian Scalabrine would almost certainly be the first of the current inactives to move into an active role if injuries should prevent anyone from playing, there's still a chance that Gaffney or Lafayette could be elevated. The pair wasn't expecting it after Game 5, but said they're ready if the call comes
"That's why we work out every day, for that reason," said Lafayette, a 6-foot-2 guard who appeared in 48 games for Fort Wayne of the NBA Development League this season and averaged 17.1 points, 4.6 rebounds, 6.5 assists and 1.8 steals per game. "Anything can happen in basketball -- or any sport -- so we'll be ready."
Lafayette dressed and appeared in the regular-season finale against Milwaukee and chipped in seven points and two assists in 22 minutes.
For Gaffney, things are a bit more complicated. The 6-foot-8 forward, a UMass product, most recently played for Altshuler Saham Galil Galboa in Israel, but appeared in just one game before a foot injury ended his season. After Game 5, he admitted he does not even know if he's game-eligible because the team hasn't had to cross that bridge.
Gaffney doesn't think they'll have to cross it for Game 6, either.
"These guys will be fine," he said. "Tonight was not ideal, but we've got a couple of days and we'll see what happens."
Gaffney and Lafayette are soaking up the experience, participating in all team activities. The duo often work out with strength and conditioning coaches before games with eyes toward being in peak shape when thrust into action during the summer league. Clearly the pair have a jump on the competition with what they're going through now.
And if that means being thrust into Game 6, they'll be ready.
"This is the biggest stage you can play on, but there's no nervousness," said Lafayette. "I know these [injured] guys will be back and feeling well. All they need is a night's rest and they'll be back at it."