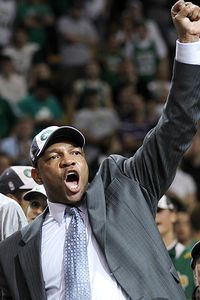 AP Photo/Charles Krupa
The Celtics finished off the Magic at home, but their success this season has been on the road.With Friday's series-clinching win over the Orlando Magic, the Boston Celtics became the first team to advance to the NBA Finals after posting a better road record (26-15) than a home mark (24-17) during the regular season.
The Celtics put together a five-game road winning streak this postseason, helping them get past both Cleveland and Orlando. Boston boasts a 6-3 mark on the road in this year's playoffs, a stark departure from the 5-13 mark posted over the previous two postseasons, including their road woes while winning an NBA crown in 2008.
The Celtics will open this year's NBA Finals on the road against the Western Conference champion (either the Lakers or Suns) on Thursday.
"The only thing that's tough for me to put my finger on is how we're a better road team than home team," said Celtics captain Paul Pierce. "But over the last few years we've been a great road team. Doesn't matter pretty much -- we have the focus, we have veterans, and I think when you play on the road, that's what you've got to have.
"Most young teams get intimidated by the road and that's why they can't win. But you have a team that's very confident, very poised, and has all the characteristics that you need to win on the road. We've got the toughness. That's what you're going to need."
Under the current playoff format, the Celtics are only the fourth team to advance to the Finals as a fourth seed or lower. How did the others fare? The eighth-seeded 1999 Knicks lost in five games, the sixth-seeded 1995 Rockets won in four games, and the fourth-seeded 2006 Mavericks lost in six games.
"This has been the toughest road in the playoffs that I've ever played in just knowing that I had to go on the road all these series," said Pierce. "Then one more series on the road. So it really shows a lot about this team. The mental toughness that it's taken to do what we're doing."