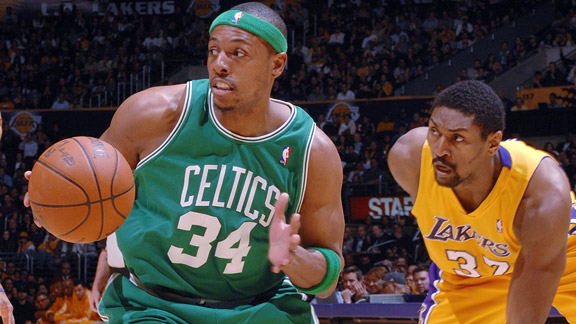 Noah Graham/NBAE/Getty Images
Celtics captain Paul Pierce made Finals plans long before the 2009-10 season started.After the Los Angeles Lakers finished off the Phoenix Suns in Game 6 of the Western Conference finals Saturday evening, Lakers coach Phil Jackson recalled a moment last summer when he laid the groundwork for a Celtics-Lakers rematch.
"I ran into Paul Pierce in a complex where my daughter lives in L.A. I said, 'Get it back, we want to meet you in the Finals,'" said Jackson. "So, here it is, almost a year later. We have this opportunity, both of us, to renew this rivalry."
Yes, it's Celtics vs. Lakers and the hype machine is already spinning out of control. But with good reason. Even Kobe Bryant noted after Saturday's win: "Obviously, this is a matchup, it's very easy to talk about. There's a lot of things that people can write about and talk about. It's a sexy matchup."
After all the "We want Boston!" and "Beat LA!" chants, we're about to get what everyone wanted.
"It's obvious the Celtics are a rivalry with L.A.," said Jackson. "There's a renewed fervor between both these towns. It's something that has been anticipated now for the last couple weeks. So here it is."
Hop HERE for more from our friends at ESPN Los Angeles on the Lakers' initial reaction to meeting the Celtics.