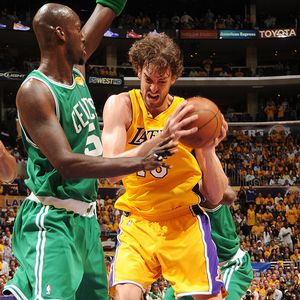 Andrew D. Bernstein/NBAE/Getty Images
Gasol gets tough against Kevin Garnett in Game 1.A handful of links as the Boston Celtics and Los Angeles Lakers prepare to clash in Game 2 of the NBA Finals Sunday night at the Staples Center:
* Gasol upset with media over KG comments: Los Angeles Lakers big man Pau Gasol was upset with how his comments about Kevin Garnett losing "some explosiveness" from his game were portrayed in the media since he also noted that the Boston Celtics forward is still a "terrific player." Said Gasol: "Sometimes I extend my answers too long. Maybe I shouldn't do that. I should be shorter with my answers and don't give away just anything so it can't be manipulated that way and used. But it is what it is. It's the Finals. It's going to be a little bit of chaos. We've just got to focus on doing whatever it takes to win Game 2. That's my main focus."
* Sheridan: The Celtics who was a Laker: The date was Oct. 24, and rookie Tony Gaffney remembers it vividly. It was the end of training camp for the Lakers, the day after their final exhibition game against Denver, and Gaffney was sitting with Pau Gasol getting treatment for a neck injury when he took notice that Phil Jackson was in the gym -- an unusual occurrence on a day when there was no formal practice. Gaffney was the 14th man on the roster and the only remaining rookie, and soon he was told that the coach and general manager Mitch Kupchak needed to see him immediately. He was about to be cut.
* May: Thibodeau not done in Boston yet: Tom Thibodeau hasn't been available to speak about his new position or his current one, for that matter. Doc Rivers prohibits his assistant coaches from speaking to the media. But knowing the workaholic Thibodeau, he more than likely has ensconced himself in front of a computer screen these last 48 hours trying to devise a way to stop Kobe, Pau and the rest of the Lakers. And, judging by his track record, he will come up with something. The Bulls targeted him because of an impressive body of work over two decades in the NBA, where designing defenses has been Thibodeau's life mission. According to those he works with, he doesn't do much of anything else.
* Source: Thibodeau accepts Bulls' coaching offer: Although an official announcement will have to wait until after the NBA Finals, Boston Celtics assistant coach Tom Thibodeau has accepted an offer to become the next head coach of the Chicago Bulls, a source told ESPNChicago.com on Saturday. Thibodeau's deal is worth approximately $6.5 million, with two years guaranteed plus a team option, according to multiple media reports.
Also be sure to check out Sunday's Daily Dime, with a hodgepodge of Celtics-Lakers content.