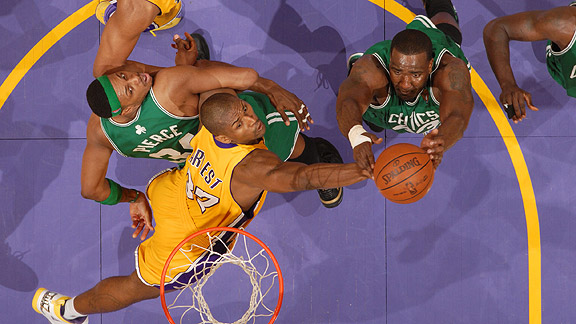 Andrew D. Bernstein/NBAE/Getty Images
The Celtics have to play better defense in order to compete in Game 2 vs. the Lakers.While examining five keys to Boston's success in Game 2, we noted the Celtics' need to hold the Lakers under 100 points.
On the surface, it's pretty simple, the Lakers are 10-2 this postseason when they cross the century mark, while the Celtics are 0-5 when allowing an opponent to reach triple figures. But consider these stats: When Boston gives up 100 points (five times this postseason), they are outscored by an average of 16 points per game, while being outrebounded by 11 caroms per game. Opponents average 51.7 percent shooting overall, while generating an average of 46.4 points in the paint.
Among the other keys for Boston's success: Evening up the rebounding numbers, more hustle in the 50/50 game, avoiding foul trouble, and keeping an eye on the little things.
Click HERE to read the full story on five keys for Game 2.